Leaders for Change Conquers Social Issues
Raising awareness on social issues prevalent in today's society and the opportunity to make a difference is what prompted sophomore Madison Butchko to create her new club at Adams, Leaders for Change.
Leaders for Change promotes spreading social awareness and helping out in the community. Members of the club can participate in a variety of projects to raise awareness on issues not typically discussed in school or at home. Butchko gives some more insight on what the club is all about.
What is Leaders for Change?
"Leaders for change is a new club at Adams that focuses on creating change and a better society through increased awareness and taking action on various social issues. It supplies students with a chance to bring change to the community, demonstrate leadership skills, interact with others, and take action on prevalent topics surrounding the community," said Butchko.
What types of projects or activities will be taking place in the club?
"Our projects will correlate with the month or day of awareness. Some topics we will be taking action on are poverty, plastic straw consumption, autism, alzheimer's, animal welfare/shelters, and sexual assault. Raising awareness will be done through poster campaigns, setting up informational tables, display cases in the media center, handing out awareness ribbons, fundraising, videos and much more," said Butchko.
What motivated you to start the club?
"My main motivation to start this club was my passionate desire to make a difference in the community. I want to create awareness on topics that are not usually discussed in school because if we do not talk about these issues, such as sexual assault, nothing will change and the misconceptions will remain," said Butchko.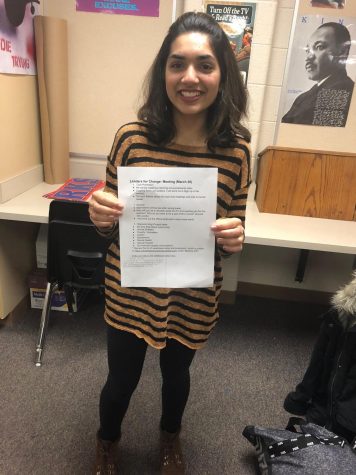 What are your goals for Leaders of Change?
"My goals for Leaders of Change is to provide an outlet for students to address issues and topics that are not generally addressed during class or at home. By creating awareness, we can help gain a better understanding over important issues," said Butchko.
How can Adams students join?
"Adams students can join by signing up for our Remind by texting @ahslfc to 81010. Those who are interested can check out the Leaders for Change website for more info. All of our meetings are on Monday afternoons, so feel free to join," said Butchko.
Butchko is excited to see where this club will go and the impact it will make in the community. The first meeting took place on March 19 and the following meetings will be held every Monday. For more information you can contact Butchko at (248)-212-3123.