It's back: Mr. Highlander comes back to Adams High School for the class of 2023
Mr. Highlander, an Adams tradition, makes a comeback for the 2023 senior class, becoming a favorite activity for many seniors as the school year comes to an end. The pageant features 15 senior boys competing for the title and two free prom tickets.
The Adams Student Council discontinued Mr. Highlander for a few years, but by popular demand the event has returned. Senior Katie Burgin, a member of student council, pitched the idea to bring back Mr. Highlander this year after its absence for the last few years. 
"Too many traditions were lost after 2020. I've seen some fun Mr. Highlander shows with my older siblings and couldn't wait to see my class enjoy the night. I really just wanted to bring back such an amazing night, one that brings the seniors together and makes everyone laugh!" said Burgin.
The pageant showcases senior boys who compete against one another in a series of events, including a dance contest, swimsuit contest, talent show, and an interview. Contestants were nominated by the senior class. The 15 finalists in the pageant will compete against one another to win the coveted "Mr. Highlander" title.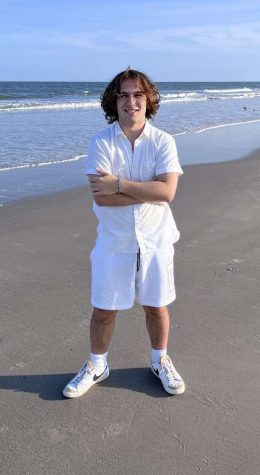 "I'm excited to be part of the Mr. Highlander contestants. I think it will be fun to perform for everyone, regardless of who wins! I'm most excited for the talent show because I think a lot of people will have interesting stuff to show off," said senior Micheal Dreon.
For the talent show event, the contestants can show off a unique skill. The talent can range from something, such as juggling to dancing or singing…anything goes.
During the nomination process, students were able to request songs for the boys to dance to during the dance contest. The boys will be following a routine that is planned by the Adams Student Council and will be judged based on who dances the best.  
The interview is a spontaneous series of questions posed to the contestants. For this event, the boys are required to wear formal attire and to be escorted out by a date, friend, or even a dog. This part of the pageant will be judged on how well contestants answer the interview questions. 
The event takes place on Wednesday, May 3, 2023, in the Adams High School Auditorium. The entire Adams community is invited to attend. Tickets are available for purchase for $10 at the door that night. All proceeds will be going toward the class of 2023.