Hurricane Sally Strikes the Gulf Coast
The category 2 hurricane, Sally, made its way along the Florida-Alabama coast on Wednesday, bringing violent winds, torrential rain, and moderate destruction. Evacuations were called as winds reached 100 mph and water levels were projected to accumulate between six and 9 feet.
As the storm swept slowly (at an astoundingly low rate of 2 mph), homes were swamped and hundreds of people were in need of rescue. Sadly, one person has been reported  missing and another confirmed dead. The hurricane has now depleted from its original state and is now just a tropical depression, which is when the wind speeds fall below 76 mph and is no longer in the "hurricane" state. 
Hurricane researcher, Brian McNoldy, from the University of Miami describes what can now be expected from this storm; "A hurricane moving at two mph is stalled for all intents and purposes, if they aren't moving along and they just kind of sit there, you're going to get a ridiculous amount of rain," said McNoldy. 
Some people have fully realized and experienced the danger of this storm and how devastating the rain will be; others have not. The ones who have realized the danger at hand have successfully evacuated and made it to safety. Although these people are escaping unharmed, their homes are already being flooded, causing some to be completely destroyed. Some people who did not want to evacuate, or did not make it out in time, are in need of rescue.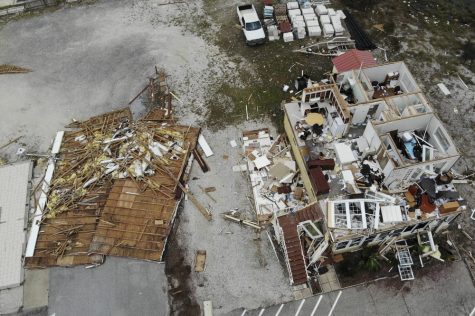 On Saturday, September 26th, Florida Gov. Ron Desantis shared what actions have been taken to help the Florida residents. "Nearly 600 search-and-rescue missions had been conducted since landfall early Wednesday," said Desantis.
The state of Florida has been taking action to help out as much as possible. The Governor has already ordered 500 National Guard members to help assist in these search-and-rescue missions, which have been extremely effective in saving people's lives. 
The city of Pensacola, Florida has been placed under a 72 hour curfew to avoid people attempting to access roads and other places that are considered unsafe at the moment. Over 532,000 houses and businesses in Florida and Alabama have been without power since the storm originally hit Wednesday. As long as precautions are taken and people follow safety measures given to them by authorities, expect a recovery in the coming months from areas affected by this disastrous hurricane.