Happy on the Hill
As another October passes, so does another Halloween Hoot. Halloween Hoot, hosted annually by Dinosaur Hill Nature Preserve, is known for being a fun activity for little and big kids alike.
After arts and crafts on October 19th, 20th, and 21st, parents can bring kids of all ages, in full costumes, to follow Dinosaur Hill's nature trails, filled with various interactive skits put on by volunteers who present treats after every skit. Doughnuts and cider are also available to celebrate the spooky season. This year, the rain and cold threatened the event, but with only a couple quick bursts of rain, everyone stayed mostly dry.
Adams theatre students were among the volunteers performing at the event on Saturday. They spent the evening entertaining families and each other at the same time.
"Every once in a while the kids will come up and talk to you, and it's fun because they get so excited. It's just a really enjoyable process," said junior Mary Crumb.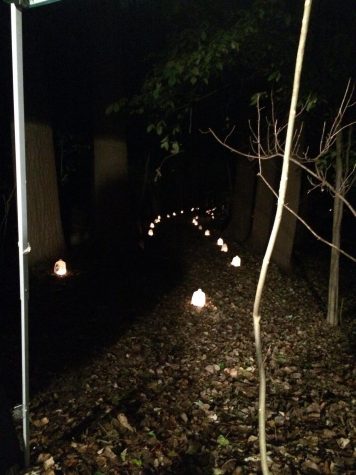 Though the mountains of candy which come with Halloween season are what most people loves about the occasion, Dinosaur Hill's Halloween Hoot has changed that for some, especially the new volunteers.
"Halloween Hoot was great! It was my favorite Halloween event because of all the adorable little children," said freshman Erynne Stanton.
Overall, Halloween Hoot was an utter success. Everyone left happy and full of donuts, despite the chilly temperatures. Maybe Halloween should become a part of the season of giving. Adams theatre students are elated for what next years Halloween Hoot brings.