From Farm to Table
Downtown Rochester´s very own Farmers Market, carries locally grown, farm fresh food and seasonal options.
In support of the Rochester community, farmers markets have many great benefits. It helps to support the economy and local farmers. This fresh, organic produce promotes healthy lifestyle with no artificial flavors or preservatives added.
The Downtown Rochester Farmers Market is loved and visited by many. It opens every Saturday from May to October from 8 a.m. to 1 p.m. It is located on the corner of E. Third and Water Street, just one block east of Main Street.
This is a family friendly environment, welcome to all ages. Junior Kayla Morris enjoys going to the local farmers market with her family to get healthy fresh foods.
"My family and I love going to the farmers market because its seasonal, farm fresh, and affordable. The food we buy there is healthy and reflects the truest flavors. The most remarkable thing is you get to connect with your community," said Morris.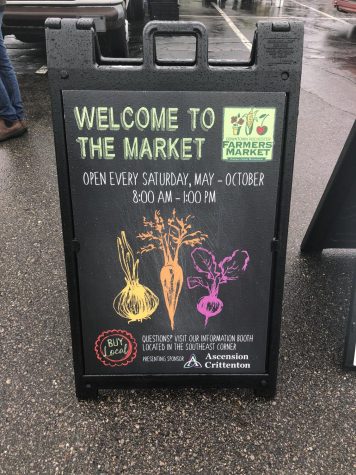 Not only fresh fruits and vegetables are sold, but flowers, herbs, baked goods, jams, honey, and more scrumptious goods. People respect and love this various selection, which draws them to these events every summer/fall. Local resident Nick Mulhall loves what the market brings to the community.
"I love farmers markets. The Rochester one is especially great in the fall for cider, apples, pumpkins, and spider balls," said Mulhall.
The annual Rochester Farmers Market compels residents to join the current craze for fresh foods. It brings many benefits to local consumers and producers, and creates a healthier environment for families all around. Outdoor markets provide an enlightening outdoor shopping experience and great family bonding time.