Adams Receives the Blue Ribbon Award
As actor Steven Weber once said, "The message educators want to send is that learning is an ongoing process and their intention is to develop lifelong learners." At Rochester Adams High School, the exemplary education system, inspiring teachers, and hardworking student body have allowed this concept to be reached.
Over 8,500 schools across the country have been awarded with The National Blue Ribbon School award. This award is presented to schools who show overall academic excellence and exemplary achievement in gap closing among student subgroups. Every year the U. S. Department of Education celebrates great American schools, schools demonstrating that all students can achieve to high levels. In 2017, thirteen schools won this award in Michigan, Rochester Adams High School being one of them.
"I am very glad to be a Blue Ribbon School because it will look good on college apps, so it could help me get into a good college," said sophomore Maggie Scheff.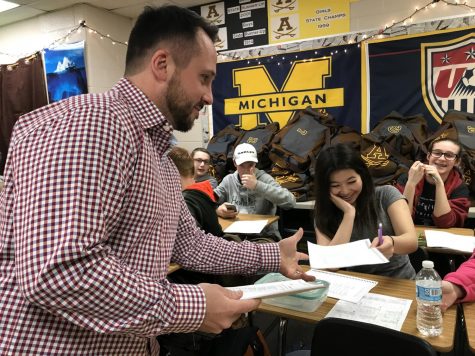 One of the things that makes Rochester Adams so great is the staff. What qualities does a "good" teacher possess? It might seem like a simple question but it has many answers. They contribute to each aspect of school culture, and their influence touches all of their students' lives.
"I love when a teacher can joke around with his/her students, it makes learning more fun!" Teachers at Rochester Adams really do encompass all of these qualities," said senior Erin Santella.
Part of the Blue Ribbon award process is determining if a school has a culture that embraces student opportunity. There are endless opportunities to get involved at Adams such as student council, school newspaper,  DECA, BPA and many more clubs. Adams has proven to have a positive school environment where kids feel encouraged as well as having a sense of responsibility. Because of this, the students and staff appear to work together to create the vision of the school; to strive for greatness and achieve it.