Downtown Rochester Lights up for Lagniappe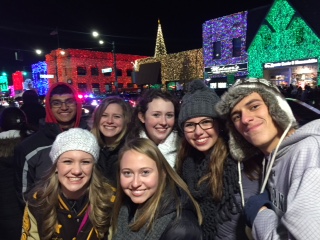 One great way to get in the holiday spirit is watching Downtown Rochester light up with a beautiful display of festive lights. Join the Rochester community and gather on the streets of downtown on Monday, November 21 to view the extravaganza.
The proper name for the event is Lagniappe, which means something extra given as a gift. In this case, the extra gift Rochester offers the community is a sense of the holiday spirit. They give this gift by lighting up the downtown streets with over 1.5 million light bulbs
Music will be provided by Kincer Catallo & The Violettes at 6:45 p.m., so make sure to arrive early, so not to miss out. The music will be followed up by  WXYZ DJ Dave LewAllen, the Meadowbrook Carolers, and even an appearance from Santa Claus himself.
The big start of the lights will be happening at 7 p.m., but stick around for opportunities to meet up with Santa Claus and join in on a free horse-drawn carriage ride.  
For the past 43 years, downtown Rochester has draped its buildings with lights to brighten the spirits of the community during the holiday season.
"People come from all over the country to see something our hometown is doing. I think people really dig that, and it gives them some pride in their city," said Nathan Hamood, President of  Dessert Oasis Coffee Roasters.
"Lagniappe is huge for our business. For the whole time it's going on we usually have a line out the door, and our team is just cranking to keep up," said Hamood.  
The lighting of Downtown Rochester is a big contribution to the success of many businesses around this time of year.
To help cheer up a chilly Monday, or just to have a great hangout with friends and family, make sure to mark November 21 on the calendar.