Debate Team Triumphs in State Tournament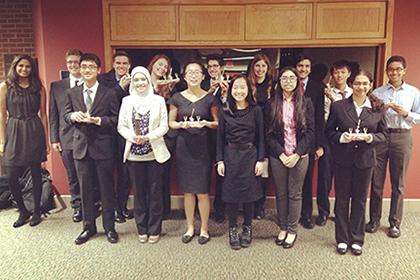 It cannot be "debated" that the Adams Debate Team conquered the state tournament at Albion College on January 9.
The tournament consists of the leading teams in Michigan who compete in two preliminary rounds in hopes of reaching the final, super-session round of the tournament.
"It's like Congress – there are a bunch of kids in the room and you're debating against them over bills," said the team's co-president senior Javeria Khan.
"Our team competes in monthly tournaments and invitationals to qualify for the state tournament," said co-adviser Mrs. Allison Danielson.
Fifteen members from the team qualified for the super-session round, the final stage of the competition.
"The team has been practicing their debate skills all semester; however, the team did not have the topics for this debate until the middle of December. Most members spent their holiday break writing speeches and preparing on their own," said Danielson.
"In the prelim rounds, you have to do well in both sessions to move forward.  The top 16 move on to super-session; super-session is the best of the best.  The super-session is where you get ranked," said Khan.
By the end of the tournament, the team left with two novice members and three varsity members placing in the top ten in the state. Senior Javeria Khan placed in second place, senior Katharine Smyth placed sixth; senior and co-president Grace Liu and freshman Geeta Rastogi both placed in eighth; Sophomore Sohaib Khan placed tenth.
"It's a good motivator for doing well in the future because now their sights are set," said co-adviser Mrs. Rebecca Bezemek.