Deadly New Zealand Volcano Erupts
New Zealand's popular volcano adventure has always been a favorite attraction for tourists around the world. Not anymore–the country's White Island volcano unexpectedly erupted during a tour, killing several tourists.
New Zealand's most active volcano erupted on December 9th, 2019, killing at least 16 people and injuring many more. The volcano, also known as Whakaari, is the only active volcano in the world that tourists can visit. 47 people were near the volcano when it erupted, most of them part of a day-trip excursion offered to Royal Caribbean cruise ship passengers.
"Among New Zealand's many attractions, one of the most recommended was White Island Volcano," said Angie Koor, a travel agent who plans many itineraries for trips to New Zealand.
New Zealand's hazard monitoring service, GeoNet, assesses volcanic activity on a five-point alert system. A score of one means minor volcanic unrest, while five means there is a major volcanic eruption. In the weeks leading up to the incident, GeoNet warned that an imminent eruption was possible, but said there was no hazard to tourists a week before the event. At the time of Monday's eruption, it was scored at two, which is considered an acceptable level for tours to continue.
Due to a 45 year old New Zealand law, the excursion company might be legally protected from being sued. Astonishingly, according to doctors, many of the dozens of surviving victims were rushed to emergency care, some with burns covering 95 percent of their bodies
While this incident happened across the world, kids around Adams High School should still be aware, whether to be informed of the news or consider changing vacation plans. 
"That is really unfortunate. If someone I knew was one of the victims, I would be incredibly upset too. Volcanic eruptions aren't really a concern for people living around Rochester though," said Adams student, Adrian Vazquez. "But even though we aren't directly affected, it's still important to know what is happening around the world."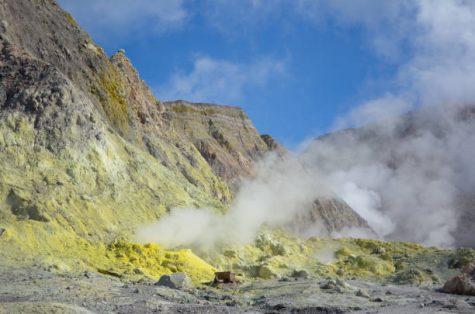 Authorities held off sending the body recovery team to White Island for days, since experts said it could erupt again at any time. But they moved ahead with the mission on Friday. Eight members of New Zealand's special operations forces managed to recover the bodies of six people who were killed. After three and a half hours of search and recovery, the team members were physically exhausted and drained.
"They've gone to the depths of their endurance and past it," said Colonel McKinstry, who oversaw the operation, said, referring to the labor his team members performed to extract the bodies.
As of Saturday, two bodies are unaccounted for, and one was believed to have been swept into the bay. Police divers are currently searching the contaminated waters. 
The search for the missing bodies will continue as the legalities and formalities of the tragedy play out. The excursion company has since stopped tours to the volcano, with good reason. Hopefully, this incident will encourage cruise companies to be more considerate about risks and dangers when choosing excursions for their passengers. Furthermore, hopefully this tragedy will also encourage tourists to more carefully consider the risks involved in their future vacation destinations.