Cusumano: Adams' New Man at the Top
This year's new school year means a new administration. Last year Rochester Adams High School said farewell to its three administrators, and is now welcoming a new group including Pasquale Cusumano as principal. 
Cusumano began his educational career coaching basketball and football right after he graduated high school. He was sold on education when he realized kids looked up to him, and that he could motivate them.
After realizing his love for educating, Cusumano went to Saginaw Valley State for his bachelor's and master's degree in Educational Leadership. He worked as a Spanish teacher for ten years before deciding to go into administration.
"I'm still a teacher…I'm just doing it in a different way. I'm working with staff members, with students, and with parents. The whole school and not just one class," said Cusumano.
Cusumano previously worked as Rochester High School's assistant principal, but when he saw the opening as Adams' principal, he had to try for the job. 
"I've always wanted to be a high school principal, and I wasn't really looking for a specific job, but everything happens for a reason. Five interviews later I got the job," said Cusumano.
Every incoming principal has a vision of how he or she plans to impact the school. Cusumano did not have any plans to change the foundation; he wanted to learn the culture and what made Adams great first. Then if there are little things that can be adjusted, he will change them to benefit the school.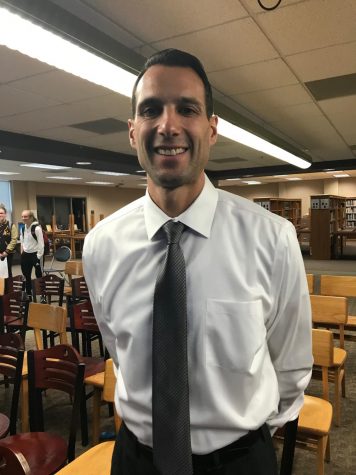 Cusumano's first plan was to get to know the Adams family and build trust with students, staff, and parents. Cusumano has worked very closely with Student Council this year, planning assemblies and many other events to come.
"Student Council loves him! He is really involved and determined to make Adams a better place," said junior and Student Council member Leighann Heim.
Cusumano admits himself that he is a very high energy guy. He likes things fast paced and wants the students to feel the energy in the school. He knows how stressful homework and classes can be, so he wants the environment to be a valued and prideful place. Cusumano believes pride should be present always because that's what makes people come back. He wants the parents to be proud their kids go to one of the best schools.
So far, building relationships with the students has been Cusumano's favorite part of being at Adams. He would not want to be in any other place because the kids are so respectful and focused on their academics. He also stressed that it's not just the dedication of the students that has made Cusumano proud, it's their dedication.
The 2017-2018 school year is a fresh start for everyone at Adams. New students, new staff, and new principals. Cusumano has big plans for Adams, and only wants to see the school grow and become the best that it can be.