Competitive Can Drive
Rochester Adams' annual can drive is coming up, and the competition pits teachers and departments against one another. English teach, Mr. Lovalvo, is on a ling winning streak, but people still wonder if he will win once again.
Adams students and teachers work hard every year to donate as much money and cans to the Rochester Neighborhood House. They help to provide food, counseling, and clothes to people who struggle to provide for themselves. The organization is very grateful for the hard work Adams does every year. Students work hard and with a few incentives teachers push them to reach a higher goal each year.
Many teachers like Mr. Lovalvo dedicate a lot of time and effort into getting donations. The teachers like to make competitions and beat other classes. Adams turns our charity week into a food and class incentive filled week.
"I know this sounds sappy, but I work hard for the can drive because it's something worthwhile. To know that what we do makes such a huge impact for the Rochester Neighborhood House motivates me year after year," said teacher Mr. Lovalvo.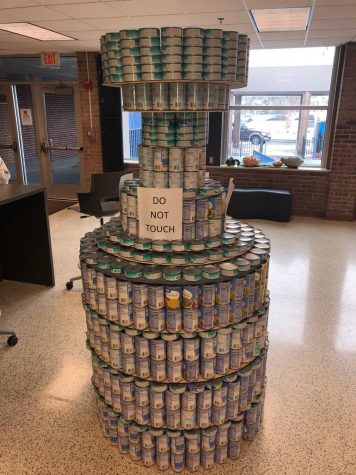 Donating to this organization does not only help people in need, but also the students. Pushing students to work with others in the community is important. 
"I think the can drive is a really good thing, and it is important to the community; and it gets students involved in helping the community," said teacher Mrs. Branoff.
Not everyone is fortunate enough to have food on the table or have new school clothes every year, and this is what keeps junior Lily Shuttlewood and her family active in donating to the community.
"Every year I donate money and cans during class. It's fun competing with other classes seeing who can get the most," said Shuttlewood.
Having a school that provides to so many organizations and helps people in our community gives students a sense of accomplishment; coming together and raise thousands of dollars. Every year this charity brings competition and benefaction to the staff and students.