Color Up Your Life
Is there anything more fun than running or walking with your friends while jamming out to music and getting sprayed with different colors? For students who were interested in raising money for the school and getting some easy exercise, the 2017 Adams Color Run was the perfect opportunity to do so. Not only was it an excellent way to raise money, but it was also a fun and uplifting experience for all ages.
The Color Run, was the world's first "Color 5k" and "Color Dash" event to happen. Founded in 2011, the mission is to bring people closer and make the world a happier and healthier place one color run at a time. The color run was more about the memories you make with friends and family and less about the time you get per mile. They are making the running more accessible to a broader group of people. Now it was the largest running series in the world. "The Happiest 5k on the Planet" has been done in more than 35 countries with over six million participants, and continues to be a leader in fun running races. 
"The color run was a ton of fun with my friends running through the colored powder laughing with my friends," said junior Arianna Payn .
During The Color Run, instead of your time it is more about having tons of fun. The Color Run was a five-kilometer run and it is an un-timed race which thousands of people participate in. The runners in the race become covered with different colors from head to toe.
There are two rules:
You must wear all white.

Finish covered in colors.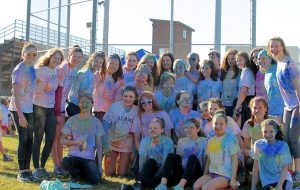 At the end when Color Runners complete the race, the fun continues with an unforgettable "Finish Festival".
This larger than life party is equipped with music and dancing while massive color throws create millions of vivid color combinations.
While the 5k event is all about having fun, it is also focused on promoting a healthy lifestyle and the event is making headway on the national focus of improving health and wellness. The Color Run 5k event will be able to act as a catalyst for the participants to live an active, healthy lifestyle.
All in all the Color run is about making memories with friends and raising money to help Adams become a better and more enlightening environment. For this being the first year that Adams decided to try this new fundraiser, it is safe to say it was an utter success.
"Well, the color run is to help raise money for The Adams Boosters and also to get excited for homecoming week," said Johann Tuscany (head of The Color Run).