College Board Faces Backlash Over Early Test Registration Policy
At Adams High School, AP courses are a part of many students' everyday schedules. 
Advanced placement classes are very appealing to many students, as they are free, easily accessible, and allow students to receive credit for some college courses. Not only this, but many colleges are also impressed by AP classes on transcripts: they demonstrate rigor in a student's schedule.
AP courses are college level classes geared towards one common goal: the final exam. The tests are scored on a one to five scale, five being the best and one being the worst. Students have the opportunity to receive college credits or waivers by scoring well on these tests. In most cases, students must score at least a three. 
In years past, students have been able to register for AP tests at the end of the year, after having taken the most of the class. At this point, many students knew if they felt comfortable taking the exam or not, before spending the few hundred dollars it costs to take them. 
But starting in the 2019-2020 school year, College Board is changing the registration process. While minor details remain the same, many AP students are unhappy with the biggest change: the new registration deadline. Instead of registering at the end of the school year, students must now register in the beginning. 
This now causes the problem that students are required to register for AP tests before even having taken the class. Forcing students to sign up this early has not settled well with Adams students and staff.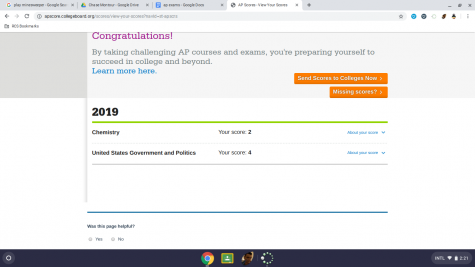 During the registration process, College Board offers "Early Bird Pricing", which allows students to pay less when registering early. After this deadline, the price rises from $100 per test to $110-$120. Some students chose to bypass the early bird pricing deadline in order to better understand the class they are taking. 
"I decided not to do the early bird pricing, so that I could get a better grip on my classes. I ended up not registering for two tests I thought I was going to just by waiting a couple of weeks," said senior Emily Morris. 
Even teachers think that this new change by the College Board is unfair. 
"I think it's incredibly unfair, and it kind of puts the students in a bad position of choosing whether or not they want to take the test before they've even taken the class," said AP teacher Mr. Mullins.