Charity Week Recap
Rochester Adams gets fired up every year for its annual Charity Week. Charity Week is filled with spirit, donations, and lots of food. The selected charity this year was ShelterBox, an organization aimed to help the homeless and those faced with natural disasters.
Many teachers sold pastries and other goodies, like chips and candy, to raise money. Teachers are also allowed to offer incentives to students. Some examples of incentives offered by teachers are pancake breakfasts and movie days. One of the most competitive teachers in the school is Mr. Dave Lovalvo. He explained why he is so competitive when it comes to charity week, and his stance on offering incentives.
"The reason I go all out is because of my daughter. One year she came to the school, she was probably in sixth grade, and she saw the measly effort I made for the can drive. She was really disappointed. From that day forward I did not want to disappoint her, so for charity week I went all out. When I put my mind to something I go at it wholeheartedly. I do offer incentives for my students to encourage them to donate, but it is important to me to maintain the integrity of the classroom. I do not jeopardize that by giving away grades, selling assignments, or paying to drop grades. I just want to make the students lives easier and have more money donated," said Lovalvo.
Although Mr. Lovalvo sells food in between classes, his efforts are not to be confused with the new food initiative that was enacted this year.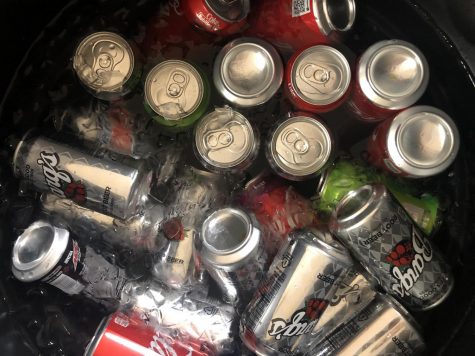 This year, each class was given the opportunity to bid on a designated restaurant that would provide a meal to the entire class with the highest donation. One of highest bidding class of the whole week was Mr. Tim Mullins' class, donating almost one thousand dollars for Lipuma's Coney Island. Some of the other restaurant options of the week were The Little Donut Factory donut truck, Rochester Brunch House, Chick-Fil-a, and Taco Bell.
The largest amount raised by a single classroom was Mrs. Liska's French 4 class. The class donated $3,000. The class is now being rewarded with a Cedar Point Trip in May.
To add to the charity festivities, the Leaders For Change Club hosted activities during all lunches. There was scooter riding and Mario Kart with drunk goggles. Students had lots of fun, but were also able to learn about drunk driving as the games with the goggles greatly impaired their vision.
Every day there was a designated spirit day, so students could dress up and get into the spirit. Before spirit week started, those who purchased the $10, blue charity week shirt were encouraged to show it off on the Friday of the pep assembly. Some of the more popular spirit days included weather confused day, country vs. country club, and pattern day. One student shares what she did to get into the spirit week vibe:
"I participated in the country club vs. country day! That idea is so out there and cool, I knew I had to join in. I picked to participate in country club. I wore a tennis skirt and embroidered polo shirt," said junior Sarrah Ahmed.
On Wednesday, Backyard BBQ Day, Adams Assistant Principal Mr. Todd Cal even personally hand-smoked pulled pork sandwiches to sell. All of the proceeds went directly towards Shelter Box.
Charity Week was successful this year as it raised $51,297. The new food initiative this year was definitely one for the books. Hopefully, future years can live up to the achievements and success of this year's Charity Week at Adams.