Changing the Way You Think of a Jeep
On Wednesday, November 28 Jeep unveiled their highly anticipated, mid-size pickup truck at the 2018 Los Angeles Auto Show. The 2020 Gladiator offers standard pickup amenities without straying too far from Jeep's signature ORV (off-road-vehicle) capabilities.
Introducing the Gladiator is a daring move on Jeep's part, being the first truck the company has released in decades. Jeep aims to cater to those looking to purchase a vehicle that is beyond the traditional pickup or SUV with this model.
"Jeep is tapping into America's growing demand for pickup trucks and targeting lifestyle buyers who want a smaller pickup so they can throw stuff in the flatbed, which gives it the functionality of a small pickup truck," said Phil LeBeau.
The truck's flatbed stretches a total of 31 inches long, that is 19.4 inches longer than the Wrangler Unlimited's wheelbase. The truck's rear five-link coil suspension is never before seen on any other Jeep model, providing an exclusive experience of comfort and capability for passengers on and off the road.
More details and specs Jeep has released for the 2020 Gladiator include:
four trim levels

Sport

Sport S

Overland (similar to Wrangler's Sahara)

Rubicon

options for an eight speed auto shift, or six speed manual shift

3.6-liter V6 pentastar gasoline engine

285 horsepower

260 pound-feet of torque

towing capability of 7,650 pounds

payload capability of 1,600 pounds

six-speed manual gearbox

eight-speed automatic also available

the three liter, six cylinder diesel available in 2020 will also include:

260 horsepower

442 pound-feet of torque

lower tow rating due to increased engine cooling necessities

automatic shifting option only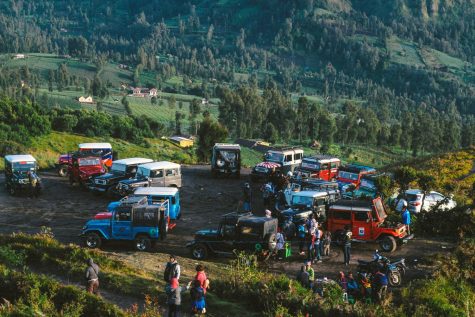 Jeep has had to make a number of unique changes to the traditional Wrangler frame, as well as the engine's cooling capabilities to be able to meet these heavy-duty specs. While the Wrangler can go from zero to sixty miles per hour in about a leisurely nine seconds, one can assume the Gladiator's "get-up-and-go" will be even less impressive.
"As a Jeep fan, I think it looks pretty cool. However, it's been tried before and did not go so well the first time," said senior Logan Kania.
The Gladiator's price has yet to be officially released, however it is expected that prices will begin at at least $30,000, with a standard four door Wrangler beginning at a similar price point.
Jeep has high hopes and expectations for successful sales of the Gladiator. Market research has proven customers find the family sized Wrangler is as capable as any other ORV, and trucks that run small, like the Chevy Colorado, still appeal to a significant consumer base. Overall, the 2020 Jeep Gladiator is a distinctive, one of its kind Wrangler based, midsize pickup truck offering towing, hauling, and off-road capabilities that are simply unmatchable and incomparable to its competitors.