Business Booming in Virtual Enterprise
Imagine a class that is run by students instead of teachers. Initially, this might sound like a recipe for disaster, but it is nowhere near that in the Virtual Enterprise (VE) class. Virtual Enterprise is a course new to Rochester Adams High School as of the 2018-2019 school year. The class is run by Tom Mavis, and is incomparable to any other business course offered at Adams. The Virtual Enterprise class, as it is run like an office, allows students interested in the business field to be exposed to real world situations and successes.
The decision to add Virtual Enterprise as a course at Adams did not happen overnight. The idea sparked from a business teacher, Mrs. Crygermaan, at Stoney Creek High School. Crygermaan attended a Michigan Marketing Educators Conference (MMEC) in 2016, in which the VE class was one of the major topics of discussion. As Crygermaan was immediately intrigued by Virtual Enterprise, she informed Mavis and another business teacher at Rochester High School about it. Following that, the three teachers dived deeper into what the class was about and spent around a year learning specifically about it. When the teachers were educated about the course to their fullest potential, their final step was getting the stamp of approval from the RCS board. Ultimately, Virtual Enterprise was approved and the business teachers were ecstatic to get their new class up and running.
An average day in the Virtual Enterprise class is far different from any other classroom at AHS. For instance, there is no instruction or lecture given by the teacher; the class is almost completely student-run. In other words, there is no introduction given at the beginning of the hour, or a specific task given by the teacher. It is up to the students, varying on which department they are in, to complete jobs and make necessary announcements. Everyday the students in VE either have a new assignment instructed to them by the Vice President of their department, or a duty to continue working on from the day before. With students taking charge, the Virtual Enterprise guinea pigs must learn responsibility and work ethic.
An additional aspect of Virtual Enterprise that makes it stand out is the setup of the classroom. The room is organized by departments of the business: digital media, art and publications, sales, marketing, accounting, communications, and human resources. Each department has their own specific area in the classroom with a simple yet colorful poster indicating its name. Here, the students belonging to the department sit together everyday in class. Even though the students are clustered together by department, they work both individually and occasionally collaborate with different departments when needed. The specific departments in VE are all assigned unique tasks, similar to those that would be given in a real office building. Take human resources for example; this department conducts daily attendance of the students manually and give it to accounting in order to decide payroll. Another instance is the tasks within the marketing department.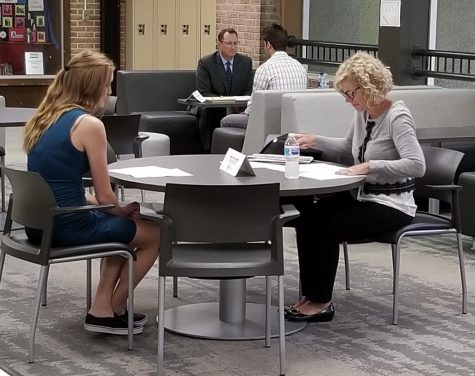 "In the marketing department, some of the tasks we complete are deciding how to market our products so that we will get as much business as possible. We accomplish this by coming up with descriptions of products and advertisements," said senior Julia Shafer.
The Virtual Enterprise classroom is evidently a diverse space both physically and mentally.
The simulation of a real office given through the Virtual Enterprise class is one of the most enriching aspects it offers. For instance, there are positions in the class similar to those in a company: CEO, CFO, COO, and Vice President for each department.
"As the COO, my job is to look over all the departments and make sure everything is running smoothly throughout the company. Basically, I help all of the departments and work side by side with the CEO. My favorite part is how realistic my position in Virtual Enterprise is and how much this will help me later down the road for real jobs," said senior COO of Virtual Enterprise Nico Jackson.
However, these roles were not handed to students on a silver platter; the students had to prove themselves through several tasks. The VE students who desired an office position were required to film a video of an overview of themselves and be interviewed numerous times. In fact, Mavis had students, parents, and even people who work for human resources for the RCS district come to Adams to interview them. The people who interviewed were shown the video of the student prior to the interview and conducted it as if it were real life. With that being said, the Virtual Enterprise course allows students to experience challenges for opportunities, as one would in the business world.
"Virtual Enterprise excites me everyday. There's always something new to be done or discussed. My favorite aspect about the class is seeing the students run the class and the growth and progress they have already accomplished in the company. As the first year of this course is already off to a great start, I hope to run possibly two classes of VE instead of one next year. I can't wait to see what the kids will achieve by the end of this year both physically in the class and mentally as well," said Mavis.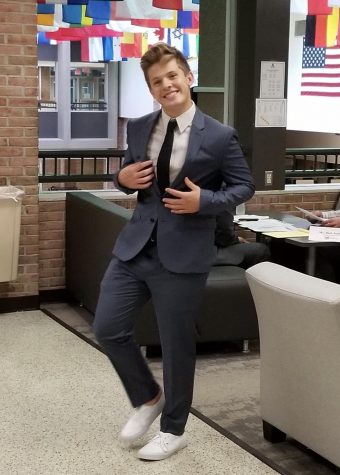 Overall, the Virtual Enterprise class is a cultivating course in which students can develop skills necessary to succeed in not only business, but life as a whole. The opportunities provided through this course create a valuable learning experience and an example of what working in a company office is like. These business students have the ability to acquire vital characteristics needed for the workforce such as accountability, growth, responsibility, creativity, and more. Virtual Enterprise is an enriching program for students interested not only in business, but a variety of fields and is a challenging yet rewarding opportunity.