Brands and Body Positivity
In a culture filled with Twitter cancelling celebrities, many brands have taken the opportunity to be more inclusive in branding and sales, while other brands may suffer consequences for refusal to reform.
Some in today's society are integrating the belief that there is no wrong way for a person's body to look. This movement, known as body positivity, attempts to promote people of all body types in order to comfort those who have felt excluded by societal standards. This includes companies using models and actors of different body types in their branding and advertising. Modeling has been considered a competitive field that accepts and expects a specific look, weight, and height that most people do not associate themselves with. By designing advertisements that include a diverse collection of models, the brand sets what is considered a positive model for other brands, while also opening their product to a wider variety of people.
The other side of society would prefer the preservation of original ideals; preferring clothes and products be advertised by what is considered conventionally attractive meaning what some prefer due to tradition, usually tall and skinny body types.
Abercrombie & Fitch and Hollister have suffered backlash from the media after making the clothes exclusive to who the brand wanted to wear the clothes.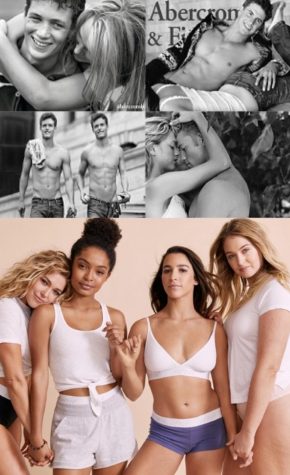 "Candidly, we go after the cool kids. We go after the attractive, all-American kid with a great attitude and a lot of friends. A lot of people don't belong [in our clothes], and they can't belong," said CEO Mike Jeffries.
When referring to the people who didn't belong, Jeffries meant anyone larger than a size 10. Most stores carry jeans into much higher sizes, like American Eagle who carries up to an 18 or an XXL. The store was also known for only hiring attractive people. If they hired someone who was not deemed "conventionally attractive", then the employee would be sent to work in the back. The company faced controversy in 2014 after advertising a model with a noticeable thigh gap. The consensus was that the image was either heavily photoshopped or the girl was suffering from some form of eating disorder. After receiving negative remarks and reviews, the store deleted the image and responded.
"Leading a healthy and active lifestyle is a core part of our brand and company culture. We think these are qualities that appeal to our customer base. Because the photo may not have been consistent with this message, we have removed it," said the brands spokesperson.
Victoria Secret was also under the microscope after the 2018 Victoria Secret Fashion show. It was noticed that the show did not have plus sized or transgender representation.
'Because the show is a fantasy. It's a 42-minute entertainment special. That's what it is. It is the only one of its kind in the world, and any other fashion brand in the world would take it in a minute, including the competitors that are carping at us. And they carp at us because we're the leader," said chief marketing officer Ed Razek.
When asked about the possibility of hiring plus sized models, Razek said, "We attempted to do a television special for plus sizes [in 2000]. No one had any interest in it. Still don't."
This response caused an uproar of negative comments from the body positive community, saying that the brand only cared about money, not the feelings of viewers and customers. The second show would be less viewed because the original is all audiences would most likely care about. By stating the brand made a second television appearance just for plus sized models excludes said models and body types from the first show, showing they do not care about inclusion.
American Eagle owns a brand named Aerie, which has been sweeping Victoria Secret out of the public eye. The brand is known for selling bathing suits and underwear, between AA to DDD and underwear sizes all the way from XXS TO XXL in order to appeal to all possible buyers. The brand launched a modeling campaign for called"#AerieREAL Role Models". The campaign started in 2016 when they hired Iskra Lawrence, a plus sized model, as the face of the brand. For the 2019 spring campaign, the brand sent after a group of extremely different women from different talents and backgrounds. Models involved with the project including singer Rachel Platten, medal winning Olympian Aly Raisman, poet Cleo Wade, and many others.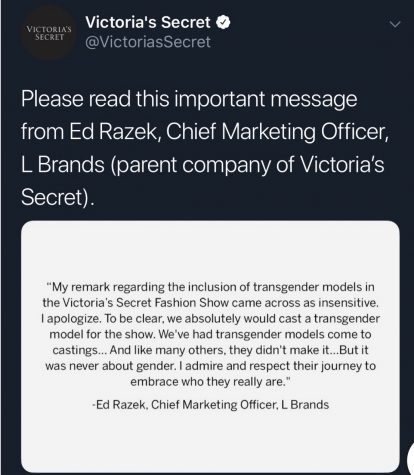 "The project using people other than stereotypical models makes it feel like it reaches a broader audience. Not everyone can identify with 5'8 models that weigh 105 pounds," said junior Emily Morris.
The company explained its choice of the models based on their influential voices, unique stories, and self made success. The campaign promises to not photoshop the photos they take, so they don't create unrealistic body standards.
"I never could have dreamt that I would be able to help girls feel better about themselves. But now I know I can I want to do everything in my power to do more. There is no better feeling and those girls have now become my motivation and drive to keep working harder to try and make a difference," said Iskra Lawrence in an interview with Teen Vogue.
The brand offers bra sizes between AA to DDD and underwear sizes all the way from XXS TO XXL in order to appeal to all possible buyers.
It is likely that the companies that choose to adapt will have a spike in sales due to positive marketing. As time advances, it is also likely that more and more brands will start to diversify ad campaigns due to acceptance or pressure from the media. At the same time, companies that decide against the change may face a decrease in sales, or even boycotts. A company's values often correspond with the type of customers they attract. This being said, we as consumers must choose who we buy from wisely.