Beyond Juice-Grand Opening
From professionals and soccer moms to retirees, people take to heart the age-old adage, "You are what you eat".
Across the globe, health-conscious consumers are looking for convenient food and drink options that fit into their busy schedules. Beyond Juicery + Eatery is an ideal choice for a franchise if you're looking to enter this growing healthy, fast-casual industry. 
Mijo Alanis, the owner of Beyond, saw people starting to trade in their hamburger buns and french-fries for smoothies and salads. He recognized a void in the industry for a fast and healthy option, and Beyond Juicery + Eatery was born.  
Fast-forward thirteen years, and Beyond Juicery + Eatery has grown to seven locations across Metro Detroit, becoming the local leader in the healthy, fast-casual food industry. Beyond Juicery + Eatery is ready to provide a healthy, delicious, and fun way to eat.
"Beyond is a super fun place to go to. I go there with my friends for lunch all the time! My favorite smoothie is the Very Berry," said Lyndi Harmon, an Adams student.
After their successful soft opening on October 10th, the grand opening on October 12th had a lot of attention. According to Anthony Bonanni, owner of the Rochester store, Beyond made roughly $3,000 in sales, and had about 350 customers in their first night. Beyond Juicery + Eatery has quickly become the favorite smoothie and lunch spot for Adams students. With three Highlanders working at the juicery, the students have become very connected with the new store.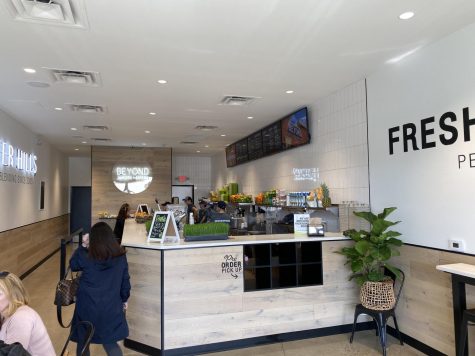 Beyond Juicery + Eatery has a wide variety of options for anybody looking for a bite. Beyond especially has great options for those looking for a green-based diet. Vegetarians are the most popular customer at Beyond, mostly ordering Spinach Wraps, Autumn Bowls, and All-green Smoothies. 
"Working at Beyond is a lot more fun than I originally thought it would be. I love connecting with the customers, and my coworkers are super nice!" said Lily Salsberry, an Adams student and Beyond Juice employee.
Beyond is passionate about being a Michigan-only store. From wheat grass grown from Ann Arbor to cherries from Traverse City, Beyond has it all. The Rochester Hills store is the newest of 13 stores around Michigan. After opening stores in Birmingham, Southfield, Troy, Detroit, Bloomfield, Grosse Pointe Woods, Northville, West Bloomfield, Shelby Township, Clarkston, and their 13th store in Rochester Hills, they are growing fast, and they plan to open many more in the future. 
Although other smoothie cafes like Tropical Smoothie and Clean Juice may already dominate the industry now, it looks like there may be a new competitor in Rochester to be the new favorite spot.