Beyond Juice Blends into Highlander Pride
Beyond Juice, an organic smoothie café and eatery located in Rochester Hills, is planning on launching the Highlander Smoothie, named after the Highlanders of Rochester Adams High School. The purpose for this new launch is to gain new customers from the school and to get more involved in the Adams community. The smoothie will be available in February at the Adams and Walton location. 
The idea to create a Highlander smoothie was thought of by two Adams friends: Lauren Cromie, a student council member at Adams, and Joanna Postrado, who attends Adams and is a manager at Beyond. Cromie's goal is to make a smoothie that will represent Adams and make Highlanders feel proud while drinking it. 
"I hope that the new Highlander smoothie is popular and it is advertised well in school. This will be very beneficial for contributing to the Adams community and boosting sales," said Adams senior and Beyond manager Joanna Postrado.
At Adams, the administration is consistently looking to make the atmosphere at the school special and more fun for kids, especially during lunch. One way to accomplish this has been to invite local food vendors to sell their product at the school and during school events. Other local restaurants also name their food after the Adams mascot, and Beyond is hoping to use the Highlander smoothie as a way to get in on the connection between the community and Adams.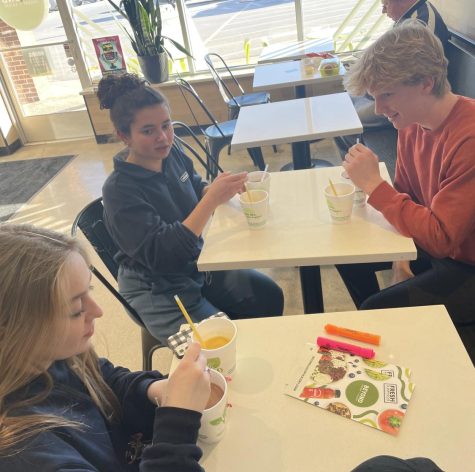 "If the smoothie becomes popular enough, Beyond will come to Adams tailgates. Beyond also would like to sell the Highlander smoothie at Adams," said Beyond employee and Adams senior Isabel Pascua. 
Many of the employees at Beyond attend Adams and hope that other students will stop by and make the Highlander smoothie a marketing success. To promote this smoothie, the store will have it posted on its creation board, which features seasonal specials, and will be passing out free smoothie coupons to students at Adams, drawing more students into the store to try the smoothie and provide feedback. Beyond hopes to also advertise the Highlander during Adams' Charity Week in early March, but the date is still yet to be determined. 
"I love Beyond Juice, but I forget it is so close to Adams. I think that many other students at Adams probably forget too. I think that this new smoothie will bring in more Adams students, and Beyond will be very busy," said Adams senior Annie Peters.
In the future, if the Highlander smoothie proves to be popular, Beyond would be open to making a smoothie for neighboring schools Rochester and Stoney Creek. For now, the plan is for the Highlander to be available through the summer, but if its popularity takes off, Beyond will offer it through the fall season.