Be Aware
Breast Cancer Awareness Month (BCAM) takes place every October. It is an international health campaign meant to raise awareness for this disease and money for research and is intended to educate people, mainly women, about the importance of getting early screenings.
Both men and women are affected by this disease. Eighty percent of most breast cancers occur in women around the age of fifty. In men, it occurs mainly over the age of sixty. Breast cancer is a worldwide epidemic, and doctors and scientists are fighting to find a cure. A total of six billion dollars is raised every year in search to find a cure for this vigorous illness, and the money keeps pouring in.
Schools, organizations, and shops may campaign in some way shape or form. College football players, for example, where pink jerseys, various organizations have yearly walkathons, Starbucks promotes flyers at the counter, and high school football programs encourage spectators to wear pink. Everyone wants to be doing their part. Sophomore Kerry Grogan feels it is extremely important for people to stay active in the community and raise awareness of this terrible disease.
"As woman, I think it is important that we are aware of this disease. Even doing the little things like dressing up in pink at our football games, just shows that we are aware, and thinking about these widespread issues. We can all come together as a community and fight against it," said Grogan.
The Rochester community is doing their part and holding county walks. On October 27, Oakland County is holding a 5k walk at Rochester Municipal Park. On October 13 Detroit held a walk, Making Strides Against Breast Cancer of detroit. Sophomore Roma Kamat went with her family to Detroit in support of the organization and helping spread awareness.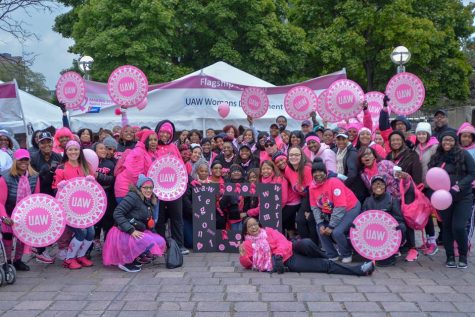 "It was a life changing experience. Seeing all the women and men and walking for themselves, relatives, or friends was really cool. The amount of pink everywhere was truly unforgettable. Breast Cancer is a widespread epidemic surrounding all women, and it is important to gather support and money to find a cure," said Kamat.
Adams students want to be part of something more and help in any way they can. Every small thing can make a big difference once everyone gets together. Rochester is not just a community but a family, banding together to fight for people who cannot do it on their own.