AP Exams on the Rise
Attention all Highlanders, second semester is officially in place, and this means that many important tests are coming up, specifically Advanced Placement testing, also known as AP exams. An AP exam is a test students take at the end of an AP class to show what was learned; a good score would allow one to potentially opt out of college classes in the future.
The AP tests will take place from May 7 to May 18, giving students and teachers three months to start preparing. Although this seems far in the future, the AP registration deadline is February 28, with a fee of $100 per test. If not registered by February 28, students can register by March 9 and pay $110 per test. The late registration period will be March 10th to March 16, with a fee of $120 per test.
To register for an AP test, students must complete a four step process. First, visit the Adams counseling page on the Rochester Adams website and fill out an online form. Then print out two copies of the confirmation email and bring one to the counseling office. The third step consists of paying either by credit card online, or check. Make all checks payable to Rochester Community Schools. A printed online receipt is also required to be brought to the counseling office. Lastly, registration needs to be confirmed by bringing the confirmation email and online payment receipt (or check) to the counseling office within 24 hours of registering.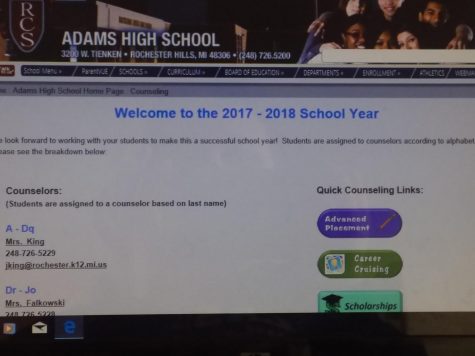 This year, an incentive has been included in the AP registration process. If students complete the four step registration process between January 29 and February 28, their name will be entered into a drawing to receive one free AP exam. Make sure to register by February 28, because $100 is at stake.
When finished registering, students think they are done until AP exams come up in May, but that is not the case. Many students tend to blow off studying for the exams because they do not necessarily count for a grade, and then they do not end up doing as well as they anticipated. This is a shame because students pay $100 to get a chance to save money on college classes.
"Don't wait for the night before to study!" said senior Amanda Kommor.
Kommor, and many other students, can attest to not taking studying for AP exams seriously and then regretting it.
"Study a lot because it pays off when you get to relax the rest of the school year," said junior Sophi Noll.
Working hard and studying for AP exams will not only give the benefit of potentially getting college credit but will also give students the personal satisfaction and sense of achievement from finishing a college-level course. AP exams are a great way to challenge students and prepare them for the future.