Amity Scholar Spotlight: Dominik Bauer
This year, Rochester Adams High School German students had the opportunity to enrich their education of Germany and the German language even further.
Through the Amity Scholar Program, the German students got the chance to meet Dominik Bauer. The Amity Institute is a program that builds international friendships and cultural understanding through through teaching exchange. Dominik Bauer is a 26-year-old who is currently studying education in Germany. He heard of the Amity Scholar Program, which gave him the opportunity to come to the United States for a semester to learn English better and further his teaching skills. With this study abroad program, both Bauer and the Adams German students had a beneficial and unforgettable experience.
Q: When and how did you arrive to the United States?
A: "I arrived on August 21, 2018. I boarded a plane in Frankfurt, Germany, and after eight hours and a layover in Philadelphia, I finally arrived in Detroit," said Bauer.
Q: What inspired you to study abroad in America?
A: "I've always been interested in getting to know new cultures, and I had never been to the United States before. So when I read about this program called 'Amity,' I knew that I had to take the chance to come here. I knew it would be an amazing opportunity for me to experience living in America, teach, and improve my English language skills," said Bauer.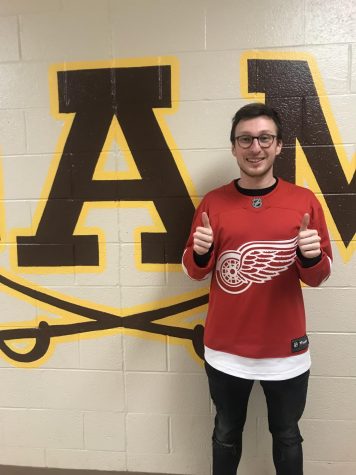 Q: What was your initial impression of Michigan, or more specifically Rochester?
A: "At first I was a little bit shocked that you really need a car to get from one point to another. Everything is much bigger here, and you cannot just walk everywhere like you would in Germany. But I got used to this very quickly. Also, Rochester looks so much different compared to cities in Germany. Buildings are not that old as they are in Germany, roads are much bigger and worse, and everything looks different compared to central Europe," said Bauer.
Q: How was the transition from Germany to America?
A: "Except for the massive jetlag I had, the transition was very easy because I had great people around me that helped me whenever they could," said Bauer.
Q: Are there any specific things that stand out, which differ significantly from your home country?
A: "The biggest difference between Germany and the US is probably the lack of public transportation you have here in America. In Germany, it's so easy to get around. Also, the food is much different in Germany. I love American food, but I'm really looking forward to finally having schnitzel and good thin crust pizza again," said Bauer.
Q: What is something you like and what is something you dislike about life in America?
A: "What I really like about America are the people. Everybody is friendly and helpful. What I love as well is that there are so many sports on TV. What I don't like about living in America is that I'm so far away from my family and friend, but that's the only negative aspect of my stay here," said Bauer.
Q: What do you find most interesting about American schools?
A: "School spirit! It's amazing; you would never see this in Germany. Students walk around in Adams shirts and spending their Friday nights going to high school football games. Go Highlanders!" said Bauer.
Q: What are some of the most significant things you have learned from living here?
A: "Take risks and good things will happen to you. I left my comfort zone Germany for a country thousands of miles away from my family, and it paid off. Always be open minded and just talk to people, it's worth it. I've learned so much from the people I met here in America and made many friends," said Bauer.
Q: What will you do when you return to Germany?
A: "I'll have to work on my masters degree… That's why I'm definitely not looking forward to going back home," said Bauer.
Q: Do you have any interest in traveling back to America?
A: "I'll be back! I have so many friends here in Rochester now, and some people have really become like family members to me. I would love to come back for prom, so maybe my former German students could start crowdfunding to get me some flight tickets! But yeah, I'll definitely come back one day," said Bauer.
Overall, Bauer had an outstanding experience in the United States, both educationally and socially. He was able to grow within both his teaching and English skills as well. The Adams German students were very thankful for him, as they were able to enrich their understanding of Germany and the language. Bauer will be missed dearly by the German students, and they are hopeful of his return.