Amble Inn Online Store 
School pride is the most essential part of Adams culture, and what better way to show it than with the top-of-the-line clothing sold at Adams' very own Amble Inn?
The Amble Inn is the school store where students can buy Adams-themed apparel; The store selection varies from t-shirts to quarter zips. 
Back in the beginning of September, the Amble Inn implemented its very own online store for the Adams community to enjoy, allowing purchases to be made without the hassle of having to physically be at the store.
The online store promises big things for the future of the store, and is expected to vastly increase the amount of sales made at the Adams Amble Inn.
 "I think the online store is a great alternative for people who don't have time to come all the way to the store to buy what they need," said Dillon Vavrick, a student employee at the Amble Inn.
The ease in which supporters of Adams can purchase spiritwear to support the high school is an amazing way to show school pride at sporting events or any other day.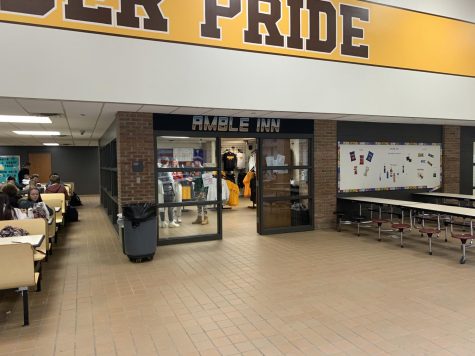 The process for making a purchase at the online store is quick and easy; customers can  select the item they want, purchase it on the website, and stop by the Main Office on their own time to pick it up.
 "To be honest, it makes my job as a cashier here a whole lot easier!" said junior employee, Christian Dedvukaj.
The online store for the Amble Inn has paved a new path for showing school pride, enabling students and supporters to purchase high-quality items at reasonable prices. The online store is leading the way for a new technological era at Adams High School.