Adams Supports Local Veterans
By the time Veterans Day came around to Rochester Adams High School, Adams was prepared and did not disappoint. On November 10, Adams hosted a Veterans Day celebration where both students and the administration recognized those from the community who served in the United States military. As Veterans Day approached, Adams staff and Student Council planned activities designed to show appreciation for local veterans.
On Friday at 7 a.m., Adams Student Council displayed a Veterans Mural in the cafeteria that was open for students to view. By 7:30 a.m. at the start of first hour, veterans in the local Rochester area were welcomed inside the school for a continental breakfast. Simultaneously, Adams students throughout the building rose for the pledge of allegiance in solidarity with the American flag.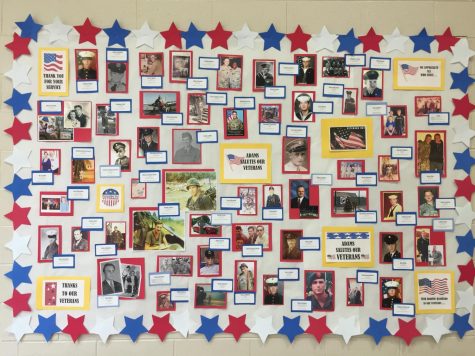 Then, at approximately 8:25 a.m. at the end of first hour, students rose again to hear the "National Anthem" sung by junior Kayla Coen. Immediately after, Student Council made a few remarks on the intercom in regards to why we celebrate Veterans Day and continued to express appreciation for veteran's service to their country.
Finally, through the second half of second hour, students were sent outside to each plant a flag in front of the school on the corner of Adams and Tienken. Outside, students were instructed to place their flag roughly one foot apart between the sidewalk and the two roads. The end result was a beautiful display of patriotism that caught thousands of drivers attention within the community.
Despite freezing temperatures, Adams students persisted against what felt like the coldest day of the Fall season. "The flags are a great way to show our appreciation to the great men and women who have served our country," said senior Trevor Wangbichlar.
"Showing our patriotism no matter what the temperature," said senior Griffin Decker.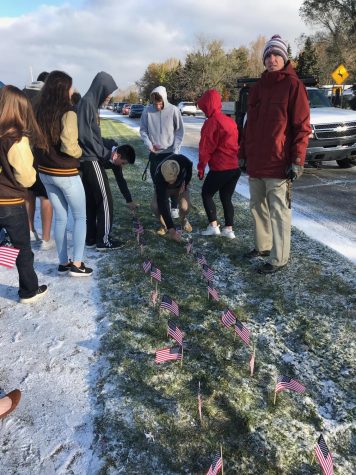 So why celebrate Veterans Day? It is vitally important as a country that we do not forget all of those who died defending our country and those great values that stand beside it. Unfortunately, even today's, many veterans are still under the awful effects of fighting in full scale wars. Plenty of veterans are still struggling to deal with post traumatic stress disorder, (PTSD), or are living their lives with permanent physical or mental disabilities. According to the US department of Veterans Affairs, 22 veterans commit suicide everyday because they are not getting the help they so desperately deserve. Thus, it is important that Adams show appreciation and dedicate one day of the year to appreciate these individuals.
More than just Adams, schools around the state including Rochester High School planned activities honoring local veterans and displayed appreciation through a great variety of activities and celebrations. At the end of the day, however; Adams sets the bar high for Veterans Days year after year and did not fall short of expectations.
Connor Laubach
Vice-Principal Mr. Cal watches students plant their flags into the snow-sleeted ground.