Adams Students Save 120 Lives
Did you save a life today? On Wednesday, November 7, Adams Student Council hosted a blood drive for the American Red Cross. The event was a complete success, with over fifty students and community members donating blood.
The drive was so successful, Student Council had to stop accepting donations because the influx of people was too high. Students who showed up to donate sported stickers saying, "I made a difference," and received an American Red Cross t-shirt.
"If you could not donate, there is another drive January 10, so do not worry! We saved 120 lives!" said sophomore Maxine Koos.
Sign-ups for the next blood drive have already began, and spots are filling up quickly. Contact a Student Council member for more information on signing up.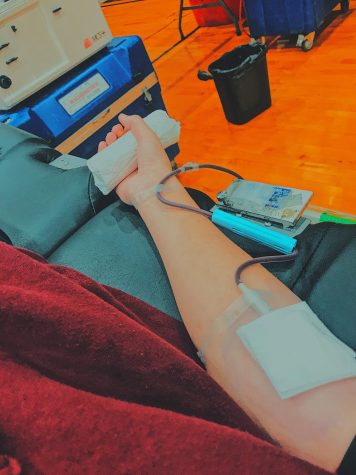 "I want to urge everyone to come out and give. This is an extremely important thing for people to understand… that for every pint of blood you give, you save three lives," said Adams teacher Mark MacFarland.
Most importantly, students who could not donate this time around do not have to wait for their school's next blood drive to donate. Those interested in taking the time out of their day to make a huge difference in somebody's life can visit the American Red Cross website to find a donation center near them.