Adams Marching Band Keeping Step
On Sunday, December 3, Rochester Hills had its sixty-sixth annual Christmas Hometown Parade. The parade took place on Main Street in Downtown Rochester, from 2 p.m. to 4 p.m. This year, the theme was "Vintage Christmas".  The parade was introduced by the Rochester Regional Chamber of Commerce and was sponsored by Genisys Credit Union.
The Rochester Hometown Christmas parade is the largest Christmas parade in Michigan, and attracts hundreds of people of every year. With the collaboration of local businesses, non-profit organizations, schools, and families, the parade is always a festive event that brings people into the holiday spirit. Some of the floats were sponsored by the Rochester Fire Department, Goldfish Swim School, and Bordines. Many students enjoy going to the event with their families. Also, the weather held up well for the event.
"The weather was beautiful this year. An overall great experience that everyone can enjoy," said senior Alexa Fenchak.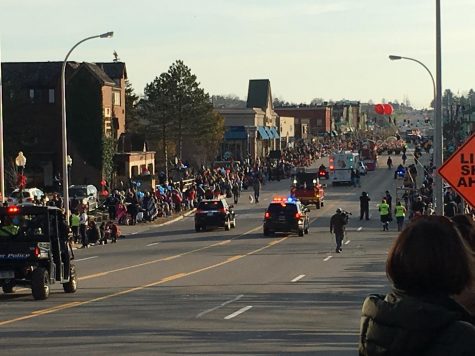 Along with other high school bands, the Adams Marching Band also made an appearance. The marching band always participates and brings Adams pride to the parade. The marching band has worked hard all season, and they had a lot to show for while performing at the parade.
"Even though we're all exhausted, we stick together like family and help each other out to put on a performance, which is was makes parade season great," said junior marching band member Jenny Chan.
At the end of the parade, the Adams Marching band was the last to walk down Main Street. Mr. Ferden was proud to playing with Santa Claus right behind them.
"It was one of the warmest parade days that I could remember. And it was an honor to have Santa Claus right behind us," said marching band director Mr. Ferden.
The Adams Marching Band playing in the parade is a great way for Adams to participate in community events. All in all, the Rochester Christmas Hometown parade is a fun way to bring the Rochester community together to celebrate the Christmas season.