Adams DECA Gears Up for States
After countless hours, in and out of school to prepare for this moment, Adams DECA members are now ready to compete at the State Career Development Conference (SCDC) and send high-scoring Highlanders to compete for an international championship in Orlando.
DECA is an after-school club offered at Adams that meets once a month with additional practices ahead of competitions. DECA prepares high school students across the world for careers in business where presentation and problem solving skills are key.
DECA competitions consist of a "written" exam, which is a set of 100 multiple-choice questions completed on a computer, multiple weeks prior to the Career Development Conference. There, students are given ten minutes to make a plan based on a business scenario and deliver a roleplay presentation up to ten minutes in length to a judge shortly after.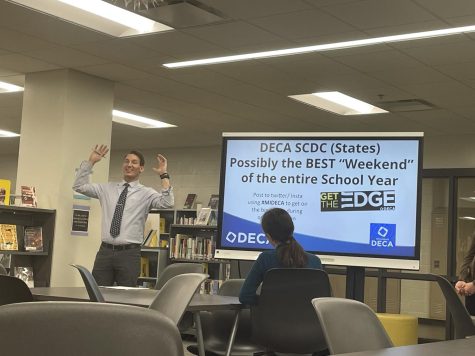 "Students should join Adams DECA because it helps prepare them for whatever career path they're following after high school," said Adams DECA Advisor, Vince LoPiccolo. "It builds confidence, it builds interview skills, and the ability in which to walk into any meeting and command a room."
Adams sent 71 students from its chapter to the District Career Development Conference in January, 50 of which advanced to States. Adams also collectively earned 97 medals, rewards for placing high on the written exam, placing high during presentations with the judge, and/or advancing to the State competition.
State qualifiers earn the opportunity to spend March 8-11 in Detroit, where the SCDC is held at Huntington Place (formerly Cobo Hall). There, they will deliver two presentations on Friday, as those scores will be added to their test score from February 28, the highest score totals earning spots at Internationals in April.
"(2022 States) was really fun. I loved all the people I got to meet when I was there, and I just loved the competition in general," said junior DECA member and SCDC qualifier, Maya Selle.
Adams students will be facing off against over 4,000 of the best DECA competitors from across the state. Only the top two scoring competitors from each of the 50-plus events will qualify for Internationals.
With so many students to compete against, the margin of error is miniscule for students trying to advance to Internationals. In order to earn every point possible, Adams DECA students work on practice exams and roleplays, at DECA meetings and at home.
Although Adams DECA will be competing against thousands of other students, the club's preparation will certainly set them up for success at the SCDC. With so many Adams students headed for States, it should not be surprising to see one or more flying to Orlando come April.