Adams Charity Week: Donation Domination March 6th-10th
Adams Student Council kicked off its annual Charity Week with a much anticipated pep assembly where the events of the week were announced. Charity week is a Tri-High event that includes Adams, Stoney Creek, and Rochester High. Student Councils from each school worked together to determine this year's charity recipient: The Henry Ford Center for Living Donations. 
The Charity Week Spirit Days consisted of seven fun themes, including Class T-Shirt Day, Country vs. Country Club Day, Wednesdays we wear Pink, Monochrome Day, Anything but a Backpack, and Pajama Day. Students are encouraged to participate in these fun-filled days to show off their school spirit and promote Charity Week. Student council also planned to do a bucket contest between grades during the pep assembly, which was a great way for each grade to show school spirit and donate to a good cause.
"Our wonderful spirit week committee worked hard to come up with spirit days that would engage our student body since in years past, we have struggled with getting students involved in the spirit weeks. We sent out a survey asking students for their input on spirit days," said senior student council member Margaret Peterman.
The Charity Ball, or Tri-High dance, was held at Rochester High School. Tickets were sold to students at all three high schools in hopes to boost donations and provide an enjoyable environment for Rochester Community Schools students.
"I really do think charity week brings out Highlander spirit because it brings out the character in everyone when seeing people come together to donate and participate," said sophomore student council member Alexa Cusumano.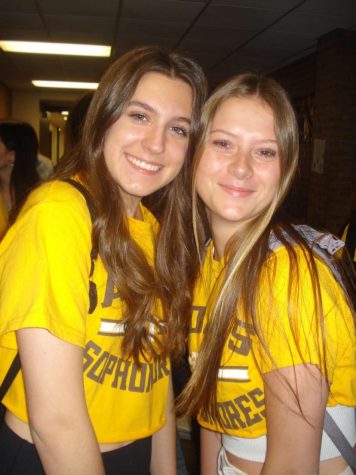 Adams promoted daily raffles for every hour. Each raffle with 1st and 2nd place food prizes a Jagged Fork breakfast, Coldstone, Half-Day Cafe, and more.
"I think Charity week brings my classes together as a whole, in the sense that they're all working towards a common goal. It also brings out the best in students and the charitable side of everyone when donating," said teacher Mr. Porter.
Adams Student Council also brought Beyond Juice and Dairy Queen to bring in extra donations and get students excited for the following week, which consisted of packed halls with food sales and opportunities for class incentives. In the past, these incentives included shaving Mr. Bondy's head and spraying the administration with silly string.
Although Charity Week is a team themed event between schools, it is also a competition to see which school raises the most money. Historically, Adams dominates each year. Regardless of this, each school came together to donate to a good cause. Incentives or not, Charity Week will always be a blast for students and beneficial for charities.