You Don't Want to be a Stranger to Stranger Things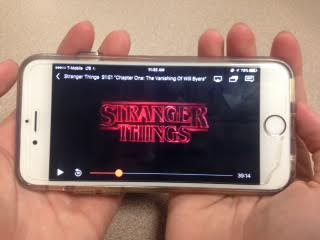 What do Dungeons and Dragons, a missing boy, and an escaped experiment on the run have in common? This answer will be revealed in the new 1980's setting-based series, Stranger Things, along with many other twists and turns throughout the show.
The creators of the show, The Duffer Brothers, decided to cast most of the main characters as children. "I think it's interesting to see a show with all children main characters, but they make it work because of all the talent the children bring to the show," said Mallory Boyd, sophomore and avid viewer.
The series begins with Mike, Dustin, Lucas, and Will, (played by Finn Wolfhard, Gaten Matarazzo, Caleb McLaughlin, and Noah Schnapp) playing Dungeons and Dragons. It is up to Will to save them, as the Demogorgon, a monster in the game, attempts to end the fight. Will makes his final move and loses. Though this seems unimportant to the storyline at the beginning, viewers realize that this game might represent something more. Later in the episode, Will goes missing, thus prompting the search for him. Viewers also get a glimpse at the mysterious child, Eleven, played by the talented Millie Bobby Brown, and what mystical powers she might have.
Winona Ryder is also cast in the show. Mrs. Ryba, a Rochester resident, states, "I love Winona Ryder, a big 80's actress, who plays Will's mother, Joyce." As the story develops, viewers see Winona Ryder's character come to life; a desperate mother turned crazy looking for her son. Joyce and the head police officer, Jim Hopper, team up to find Will, and make an important discovery about another dimension; The Upside Down.
Throughout the story, Will's friends go on multiple adventures in a desperate attempt to save him. During their travels, they meet Eleven, who is on the run. Eleven proves to the kids that she has a connection to Will, and that she must help find him. In a race against time, Will's friends realize that they might not be the only one's looking for him.
The end of the first season leaves several unanswered questions. The second season has been confirmed, but many believe that a second season could ruin the show. When questioned if the second season will live up to its high expectations, Boyd answers, " I don't think so, just because the first season was so good, and sequels in general are usually worse, but I am excited to see how they are going to pick up the story."
This 1980's placed Netflix show is a must-see for all ages and people of all interests. It blends humor, science fiction, and horror all in one show, with many twists and new discoveries to keep the viewer wanting more each episode.