The indie-rock supergroup Boygenius consisting of Lucy Dacus, Phoebe Bridgers, and Julien Baker wrapped up a successful world tour with a final show at the Hollywood Bowl in Los Angeles, California on October 31. For this special Halloween performance, the group shared the stage with other artists such as Sloppy Jane and 100 Gecs. 
The excitement for fans began when Boygenius announced new music was dropping on social media September 25. Also unveiled was the cover art for the announcement, which alone provided a feel for how the EP (extended play) would sound. The cover featured the band members posing on the beach in an eerie silhouette. 
The second EP, titled "The Rest", was released on October 13, 2023 which consisted of four songs: "Powers", "Black Hole", "Afraid of Heights", and "Voyager". Boygenius has accumulated up to 4.5 million monthly listeners on spotify. 
Boygenius fans are streaming the new existential EP, anxiously awaiting the band's first appearance on Saturday Night Live, November 11.  
The group was originally formed in 2018 after becoming friends through their solo music careers. The singers had previously opened shows for each other on each other's solo tours. Shortly after uniting, they released their first self-titled EP that same year. Listeners described it as a harmonious blend of the three artists' talents receiving an 8.3 from Pitchfork. 
Interestingly, the name of the band confused fans and listeners, especially because they are an all-female supergroup. The band addressed their reasoning behind the name in an interview with Rolling Stone Magazine. 
"A 'boygenius' is someone who their whole life has been told that their ideas are genius… and women are taught the opposite," Bridgers explained. 
The group as a whole endorses gender equality which isn't typically present in the rock music industry.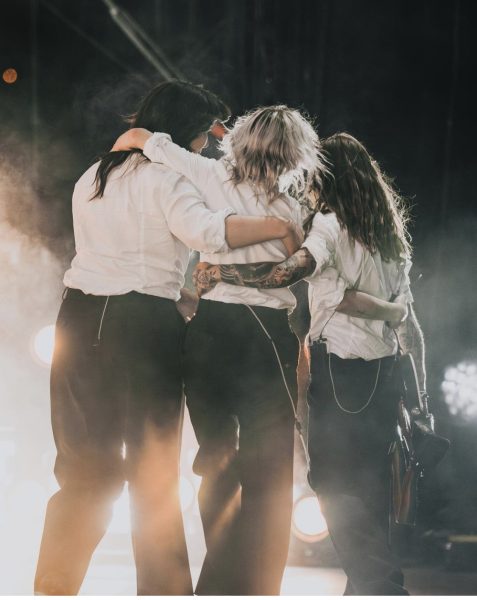 This coming Saturday night will be Bridger's first appearance on SNL since 2021 when she was the musical guest alongside the Schitt's Creek actor, Dan Levy. During Bridgers' performance of her song, "I Know The End", she famously smashed her guitar live, gaining even more respect from the indie/punk/rock community. However, this week's show will be a first for Dacus and Baker. 
Boygenius hopes that their stage presence encourages others to relish in the power of friendship. 
It's bittersweet to wonder if this upcoming SNL performance will be the last gig for Boygenius for the time being. Even so, the supergroup has left the listeners with enough to reminisce with the two gut-wrenching EPs and one masterpiece album. Boygenius has certainly left its musical mark as they prepare to break the fans' hearts on SNL this coming weekend.