Twenty One Pilots' "Blurryface": Two Albums in One?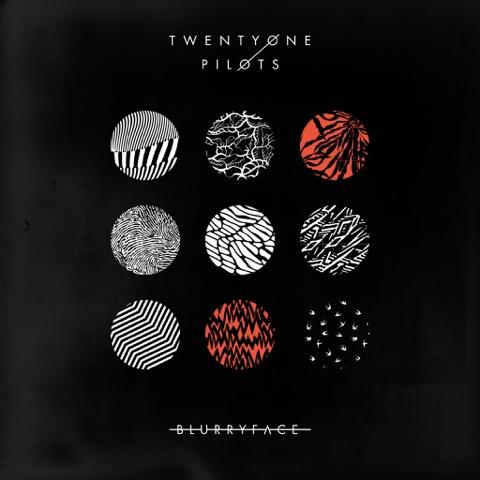 If there are words to express the emotional rollercoaster that is Twenty One Pilots' latest album, Blurryface, they surely do not exist in the English language.
One minute everything's all sunshine and rainbows, upbeat melodies and ukulele charms- then, BAM! Suddenly the listener is blindsided by a lyric that is too real to deal with. That, however, is what makes Twenty One Pilots so unique as artists. Their relatable lyrics and fusing of genres continue to captivate the ears and hearts of their listeners. Through these tactics, the duo that transcends genres has successfully created not just 14 songs, but 14 individual experiences that form one chaotic (but, in a good way) album.
While Blurryface incorporates several different styles, there seems to be an overarching reggae vibe that permeates several of the songs including "Ride" and "Stressed Out." Also prevalent throughout the album is lead singer Tyler Joseph's trademark spitfire, staccatoed, rapping and lyrical, catchy, melodic, ukulele riffs. The balance of the two distinct styles makes for an interesting complex sound, fluctuating between upbeat dancey and a more intense, charged effect.
Of course, the album also has heavy modern hip-hop and electronica influences in its rhythms, mixes, and layers. The cool thing about it is the contrast between Joseph's natural tone, with all its breaks and quivers and quirky inflections, and the creates captivating and unique element to songs like "Doubt" and "Polarize."
There aren't really any songs that could be considered "bad" on Blurryface, but that doesn't mean the album is flawless. It is chaotic and almost impossible to follow, with nothing that really unifies the songs. As a result, the flow of the album is disrupted, creating a rupture in the aesthetic.
Blurryface is an album that keeps listeners on their toes and tugs at their hearts with lyrics that can be applied to anyone. The lyrics focus primarily with themes dealing with like doubt, insecurity, stress, fear, wanting to be something more, and really accepting yourself and finding out who you are and what you want.
Bluryface is definitely an album worth buying. Really appreciate the music and listen to the lyrics because the talent and passion that went into it are evident. Although it has some minor flaws, Blurryface has earned itself four stars.