As the new school year begins, fashion trends swarm the halls; the latest brand, the trending pant, or the hottest new style of shirt. One of the biggest shoe trends for the fall season? The  Ugg. 
Whether it be the Ultra Mini Ugg or the Tasman Slipper, brown suede shoes fill classroom floors and populate amongst hallway tiles. 
The Ugg shoe originated in 1978 and was created by Brian Smith, a Californian surfer with a big dream. The brand features a vast variety of shoes, ranging from slippers, boots, sneakers, and even sandals. But Ugg's hottest item has always been the iconic slipper-like brown boot. It wasn't until the 2000's when the Ugg brand took New York fashion by storm and started being worn by celebrities across the pages of Vogue. 
Now the trend has re-established itself, taking over the closets of high-school students. Much like a house-slipper, the Ugg boot features a soft fleece, providing comfort and warmth to students during long school days, and students at Rochester Adams High School fill the Highlander halls with the classic brown shoe in its many different variations.
Charlotte Lin, a senior at Adams, owns two pairs of Uggs and deems them the perfect fall and winter staple to keep your feet warm.
"Well, the thing about Uggs, they're very versatile. I feel like you can wear them both as a house slipper or outside; they're just cute either way…I wear them to school, to a mall, to a restaurant," said Lin.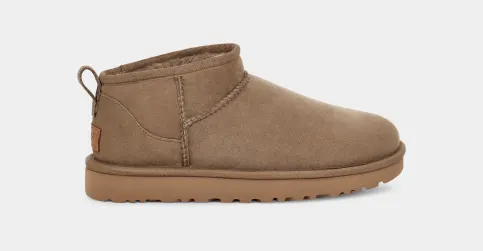 Lin, although resisting the trend at first, was influenced to buy the boot primarily by social media.
"Tiktok, Pinterest, and all my favorite influencers… well first I was like 'Oh they're trending', but I waited a while, and I was like 'I gotta buy them', and then I loved them so much I got another," said Lin.
Senior Naiara Castaño, owned Uggs as a child, and although they aren't really her favorite style anymore, she understands the recent trend. 
"When I was little, yeah. But I mean, if your feet are cold, I feel like that would help. And I get why some people think they're cute," said Castaño.
Losing popularity a few years ago, the warmth and comfort of the Ugg has allowed the iconic shoe to make a comeback and continue to populate amongst the halls of Adams and celebrity closets.