The Rise and Fall of Toys "R" Us
Remember being a toddler and playing with a little rattle toy? Reminiscing about preschool and playing in a toy kitchen, pretending to cook hard, plastic food and thinking about being the next top chef. Or even the first time experiencing what a video game was and how it would soon become an addiction that was hard to get rid of. One store was able to bring these vivid memories of a great childhood to life for all kids and teens everywhere.
Toys "R" Us is a toy and electronic game system retail store that has found its way into the daily life of children since the late 1940's. The company was founded by Charles P. Lazarus and opened just after the end of World War II. Toys "R" Us was originally an infant-furniture store but then was quickly changed due to many requests for a store where toys could be sold. Known then as Children's Supermart, the store quickly took over the toy-making competition and dominated businesses like Mike Tyson. Soon after, Toys "R" Us brought several new toys to their shelves such as Barbie dolls, Hot Wheels, Scattergories, and Pictionary.
(Various game consoles such as the Xbox Original, Nintendo 64, and Sega Genesis, that were sold in Toy "R" Us stores)
When video game consoles hit the market a little over fifty years ago, it needed somewhere to be sold. So, Toys "R" Us was the perfect place for anything entertainment-related. This would later put Toys "R" Us against bigger retailers like Walmart and Gamestop. Even though sales were consistent at the store, it could not prevent the turmoil in this new day and age. In March of 2018, Toys "R" Us declared bankruptcy and began closing down all its stores. As a result, the company's liquidation will take effect in the very near future.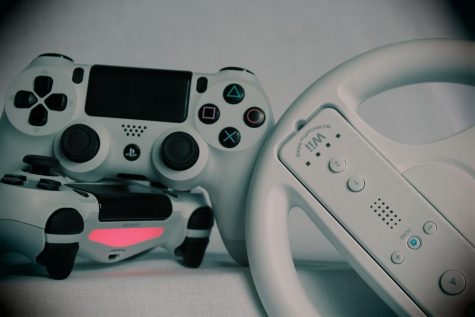 When I was a little boy, I remember going to the store and cashing out on game systems like the original purple GameCube, Hot Wheels race track sets, and even remote-controlled cars.  Do not take my word for how well Toys "R" Us treated me during my younger years, take the word of other students found at Rochester Adams.
"I would have to say it [Toys "R" Us] impacted me because Toys "R" Us was my place to go when I was very little! I used to go there to buy lots of sets of Legos! If I decided to go back to Toys "R" Us during the liquidation sales, I'd buy the last of the Legos and video games they have," said junior Thomas Wu.
To make matters worse, founder and owner of this once-popular store, Charles Lazarus, passed away at the age of 94. It almost seems as if the spiral of this retailer chain had a devastating effect on the Lazarus.
"Hasbro reported a 16% drop in sales for the first quarter. The toymaker's earnings missed forecasts mostly because Toys "R" Us is closing," said Paul R. La Monica of CNN Money.
Toys "R" Us' bankruptcy not only affects the retailer, but the toy companies that distribute through the store. As the final days of the beloved toy company dwindle, nothing can be done to prevent the agony of its name fading away.