The Nightmare before Christmas Music
Every year it seems like Christmas music is played sooner and sooner. Even before the pumpkins are put away, the sound of sleigh bells make their debut. The holidays are a time of happiness and joy, and the music that goes along with it tends to brighten everyone's spirits. Although this may be true, some argue Christmas music needs to be at the right time and place, and would rather cherish the song at a more appropriate time.
Tons of artists try to reach out to those who love Christmas music. Singers like Arianna Grande and Justin Bieber, who normally sing pop songs have released Christmas albums, which have both been huge successes. Arianna Grande's Christmas and Chill album has a variety of songs with holiday energy. Justin Bieber's "Under The Mistletoe" has some songs which are remixes of more traditional Christmas songs, like Santa Claus Is Coming To Town.
It is not just the remixes that get people in the mood for the holidays. Students like junior Kerry Grogan enjoy getting into the Christmas mood before the first snowfall.
"Christmas music doesn't bother me, I like when they play it early! It's so cheery and happy. Everything with Christmas is so pleasant. Why wouldn't you want to listen to it? I do know some people that don't listen to it until December though… not me! My favorite Christmas song is White Christmas by Michael Buble. Even though the weather is cold, the snow is so pretty," said Grogan.
Sophomore Tara Ghanekar agrees with Grogan. She uses Christmas music as a way to combat with the stress of school.
"Oh yeah! I love Christmas music. I have a whole playlist ready to go right after Halloween. During school, when I get sad I just listen to that, and it automatically makes me feel better," said Ghanekar.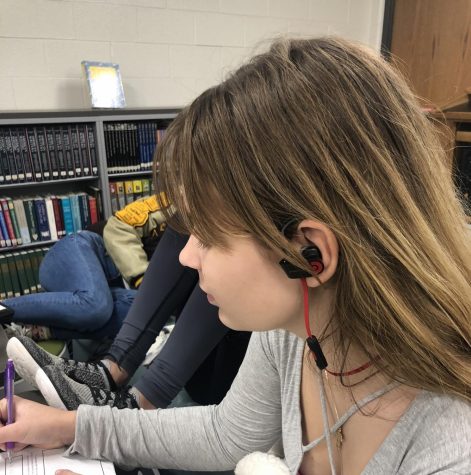 Whether it is the changing of people's mood or putting one in the Christmas spirit, it does not seem to disappoint. Junior Adrian Vazquez thinks after commemorating Native American and British relations is a good time.
"I think the right time to play it is right after Thanksgiving. My favorite song is Mariah Carey's iconic 'All I Want for Christmas Is You,'" said Vazquez.
Christmas is a holiday of happiness and the music associated with it can bring smiles to dozens of students any time of year. Even though some may get grumpy with the idea of early music listening, it generally puts everyone in a good mood.