The Backstabbing Bachelor
"This will be the most dramatic moment in bachelor history," said the well-known host of The Bachelor, Chris Harrison. Chris Harrison is guilty of using this classic line during almost every season of the show, but little did viewers know that this season was no exaggeration.
The Bachelor is a hit series on ABC in which people (ages twenty one and older) can apply and audition for a chance to find love and a possible partner for life. It starts out with one man (the bachelor) and 25 women who have auditioned to be apart of this crazy journey. Each week a certain number of women are sent home if the bachelor does not see a connection or a potential future with them. This unfortunate, but necessary process leads to countless tears and is executed through what is known as a "Rose Ceremony." During this ceremony, if the contestant receives a rose they stay and if they do not they are sent home. This rose symbolizes the bachelor's confidence in where he stands with a specific girl and wants to move forward with their relationship. As weeks of elimination pass, it comes down to two women. The bachelor then must choose one woman to whom he will propose. This romantic engagement is the ultimate goal and end result, but this season the freshly bloomed rose shriveled up fast.
The most recent season of The Bachelor, season twenty two, featured Arie Luyendyk. Arie is a former race car driver who had his heart broken in season eight of The Bachelorette. ABC decided to bring him back as the bachelor to give him a second chance at finding love, but he had no idea he would become the most controversial bachelor in bachelor history.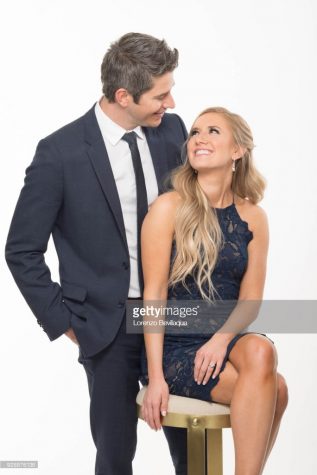 "Before the season finale of the bachelor, I wasn't that big of a fan of Arie, but I thought I'd give him a chance. After the finale I was shook and definitely developed a strong hatred towards him because of what he did," said junior Haley Collier.
On the season finale of The Bachelor, the nation watched as Arie became the most hated bachelor ever known. He was left with two outstanding women: Becca Kufrin and Lauren Burnham. Yet they have polar opposite personalities, Becca and Lauren are both extraordinary women who swept Arie off his feet, so it is no wonder he was so conflicted. Nevertheless, his final actions are not to be excused by tough decisions making.
When proposal day arrives, Arie is lost and has an immense fear of making the wrong choice. In the end, he makes his decision a few hours before proposing and choses Becca, sending Lauren home in a puddle of tears and confusion. Arie and Becca live a happily engaged life after the show is over, or so the viewers thought. Only a month and a half after being engaged, Arie brakes off him and Becca's engagement because he claims he is still in love with Lauren. Although it is Arie's decision to follow his heart, his approach is far beyond hurtful.
When Arie ends things with Becca, he does it on national television instead of privately. With this approach, there are cameras following sobbing Becca around the L.A. penthouse and capturing every unbearable moment of the breakup. Additionally, Arie confesses to still being in love with Lauren to Becca and even admits to reaching out to her while they were still engaged. In fact, he even states he could not wake up or go to sleep without thinking about Lauren. That is what every fiance wants to hear right? Ultimately, Becca is blindsided by Arie throughout their whole engagement. After having her heart broken on national television, Becca proceeds to ask Arie to leave. In response, Arie lingers around the penthouse and continuously attempts to ask Becca if she is okay and if they could talk more. Becca, obviously hurt, is hesitant and wants to be alone, but with her class and dignity she finishes their conversation. One of the worst parts about their whole discussion is the fact that Arie acts emotionless and selfish. Although Arie executes this tough decision very poorly, Becca handled it with strength and maturity.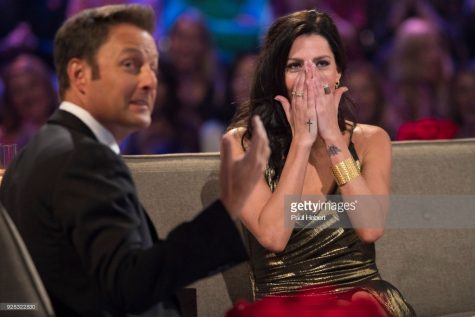 "Ok frankly I found what Arie did was trashy. He decided THAT MORNING whether he was going to pick Becca or Lauren to engage to. How can someone pick the person they are going to marry in a mere 3 HOURS? And then to regard Becca and his month and a half engagement with no empathy for her is detrimental to any woman in her positions outlook on love. And before the whole engagement was broken off, he told ABC first of his plans before Becca. Good thing he thinks a TV channel should know of his engagement plans before the woman he is literally engaged to. To add on to that, ABC tricks Becca into thinking she is staying at a luxurious house in L.A. with her fiance when in reality, it's a setup for Arie to tell her that she is, in fact, the loser. OH and he has the audacity to watch her cry for 15 minutes while not saying anything and then repeatedly disobeying her request to leave. Like get out and stop saying "I'm so sorry" when you probably don't even mean it. He also proposes to Lauren on the following episode, 10 minutes after talking to Becca… disappointed," said junior Sam Antenucci.
The list goes on in terms of Arie's wrongs during this detrimental season finale. His initial rash decision of choosing a wife hours before an engagement kick started the hate fire towards him, and he progressively made it worse after the cameras shut off. If he was really that unsure of his decision, why propose? When it comes down to it, Arie acted disrespectful and immature towards Becca, a woman who is nothing but kind hearted and gracious. Although Arie's approach was highly disapproved, Bachelor Nation wishes him and Lauren the best, but of course they wish Becca even better as the new Bachelorette. Clearly, when one door closes another door opens.