The Artists of Adams
Recently, Rochester Adams High School students were awarded by the Annual Southeast Michigan & Thumb Region of the Scholastic Art & Writing Awards. The event is an art competition for students in grades 7-12, and this year there were 6 Gold Keys, 8 Silver Keys, and 7 Honorable Mentions awarded to artwork created by Adams students. The awarded artwork is displayed at the College for Creative Studies, and the Detroit Film Theatre at the Detroit Institute of Arts (DIA) will be holding an award ceremony in February.
In 1923, these awards were created by Scholastic, Inc., which is one of the main suppliers and contributors to the literacy curriculum, and they provide schools around the world with books and opportunities for better education, according to Scholastic. Provided by the College for Creative Studies, these awards aim to promote and honor students in the arts, get their work noticed by professionals in the field, be published in academic journals, or displayed in highly viewed exhibits, or even receive scholarships for their artistic endeavors.
The College for Creative Studies has posted on its website "A noteworthy roster of past winners includes Andy Warhol, Sylvia Plath, Truman Capote, Richard Avedon, Robert Redford, Joyce Carol Oates, Stephen King and John Updike."
Across the country, students compete in 29 art and writing categories, which are then scored regionally. These regions submit work for national adjudication to receive the highest awards, or Gold and Silver Keys. Those who receive national Gold and Silver Keys receive national recognition, along with their teachers, and they are invited to an award ceremony at Carnegie Hall and an exhibit in New York.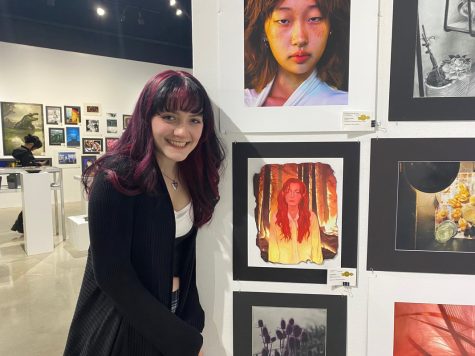 In Michigan, the competition receives over 4500 pieces from middle and high schoolers, as well as more than 200 high school senior portfolios; these are then selected for Gold and Silver Keys, in addition to Honorable Mentions, American Vision nominations, and Best of Show Portfolios. Adams returned from this competition with a myriad of awards, and these successful students have beautifully displayed Highlander pride in the arts for the other schools.
"I really enjoyed being in the competition, and being able to appreciate other people's work while also being recognized for mine. It was a great experience!" said senior and Gold Key winner Zoe Guthrie.
The arts program at Adams also took a field trip recently to the Detroit Institute of Arts (DIA). The DIA provides programs, resources, and events for art enthusiasts and those in the community to become connected and immerse themselves in a wide variety of diverse artworks. Because of this amazing opportunity, Adams students were able to not only appreciate art created by others throughout history, but also broaden their perspectives on the world, which could inspire them artistically or in what they decide to do in the future. 
The preservation of history and art, as well as easy access to it, is essential knowledge for all, and it provides a platform for current artists and those of future generations to display their work and get recognized for their contributions to society. Fortunately, students at Adams interested in the arts are encouraged to pursue said interest, improve their skills, and connect with other peers and professionals in the same field.