Roseanne Meets Racism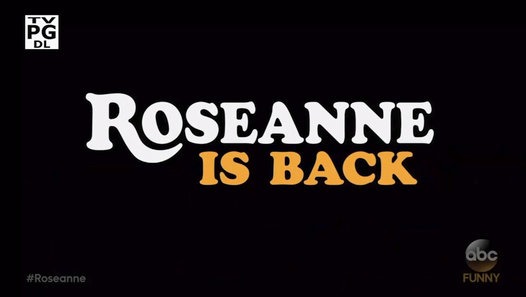 Television star Roseanne Barr caused the cancellation of her own self titled show, due to a stream of racist tweets about politician Valerie Jarrett.
"Roseanne" the show was renewed after years of being off air, however the show's first season back will also be its last. On May 29th Roseanne Barr compared Valerie Jarrett to an ape on twitter, which led to the cancellation of her show. ABC quickly dropped the show after seeing the backlash from the media, even though the show was the most viewed sitcom of the year. She apologized on twitter soon after, stating the joke was in bad taste, but she continued to make the situation worse by blaming the fact that she took an ambien before she went online. The social media respondent for Ambien quickly responded, stating "Racism is not a side effect of our drug."
"I think it's crazy that she thought she could blame a drug for her racist actions, absolutely nothing justifies what she said. Ambiens response on twitter was absolutely hilarious, and definitely needed to be said," said junior Brooklyn Green.
This situation is not the first encounter Roseanne Barr has had with racism in the media. Weeks ago photos surfaced of Barr dressed in a Nazi uniform taking burnt gingerbread men out of an oven. She obviously did not learn from the situation.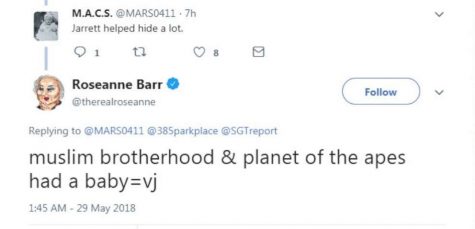 "I begged them not to cancel the show, I told them I was willing to do anything and asked for help in making things right. I'd worked doing publicity for them for free for weeks, traveling through bronchitis. I begged for people's jobs," said Barr.
The realization that the entire cast and crew for the show would now be out of a job seemed to upset her. Rumors are surfacing about the crews possibility of sueing the star. Emma Kenney who played Harris on the show recently spoke out against her controversial  cast member.
"I am hurt, embarrassed, and disappointed. The racist and distasteful comments from Roseanne are inexcusable," tweeted Kenney.
The actress frequently expresses her activism, which caused major confusion on why she would be on such a controversial show.
The question remains whether the show will be picked up by another network, but sources say the show would suffer a massive drop in ratings, and would need to recast some members.