Rochester United's Playoffs Run
Rochester United is back in the exciting MHSAA hockey playoffs. The electric-fast United team is defending last year's title, and winning games against excellent hockey teams. Does RU have what it takes to win another regional championship?
Since entering the playoffs, RU has played Utica Eisenhower and Port Huron. On Thursday night, RU played Eisenhower and won 6-5. Senior Caden Ebinger scored the game-winning goal, sending the team to the semi-final game. Ebinger received the pass from captain Matt Kanaras, who skated the puck in and passed it back across to Ebinger for the back door goal. 
Rochester's next opponent Port Huron was coming off a bye week. Rochester United would go on to dominate Port Huron 7-1 in Saturday's semifinal game, therefore, earning another shot at getting the regional trophy back. 
"These past two games were challenges, but we must stay focused. Eisenhower was the biggest game of our season, and we came out on top. The trophy is our,s and we need to get it back for our school," said sophomore Finn McCaughtry. 
Looking forward, Rochester has one team in mind, L'Anse Creuse Unified. LCU defeated Dakota in the semifinal game 6-3 in a surprising upset. Rochester now has to play LCU for the regional game, and cannot overlook their next opponent. Luckily, Rochester played L'Anse Creuse and beat them 5-3 earlier in the season.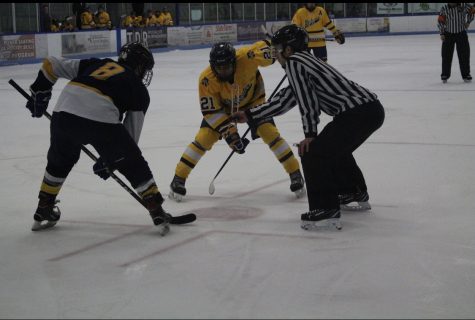 "We played them before and beat them. We played bad last time we played them, and we know we can destroy them this time. We need to win this and move on farther in the playoffs just like last year," said junior Brendan Santo. 
Rochester's next game against L'Anse Creuse is the most important of the season. The regional game will be played at Mount Clemens Ice Arena at 7 p.m., Wednesday night. Rochester needs an electric student section to help bring the intensity through the roof.