This year, downtown Rochester, MI celebrates its 50th year of Lagniappe, a holiday tradition started in 1935 consisting of holiday parades, decorations made by the local high schools, and store discount raffles. Over the years, the event has grown in popularity and in magnitude. Officially dubbed 'Lagniappe' in the 1970s, today, Lagniappe's holiday magic, as well as many other winter traditions, have put downtown Rochester on the map.
Arriving in downtown Rochester on November 20, patrons will begin bouncing in and out of stores hustling and bustling with holiday cheer. With more than one million visitors each year, the event's popularity has grown exponentially. Even local celebrities have been spotted taking Instagram photos against the classic lights. 
Lagniappe's momentous attraction is the Big Bright Light Show. Every building on Main Street is covered head to toe in Christmas lights with many stores making their own tradition out of the event. For example Holy Cannoli, a small bakery downtown, has been decked out in the same rainbow lights year after year.
The simultaneous lighting of Main Street is breathtaking; over one and a half billion dazzling lights illuminate the snowy streets.
"What's not to love? It's great. The lights are beautiful and something you really can't see anywhere else. It's unique to Rochester," said senior Adams High School student Elena Bailey.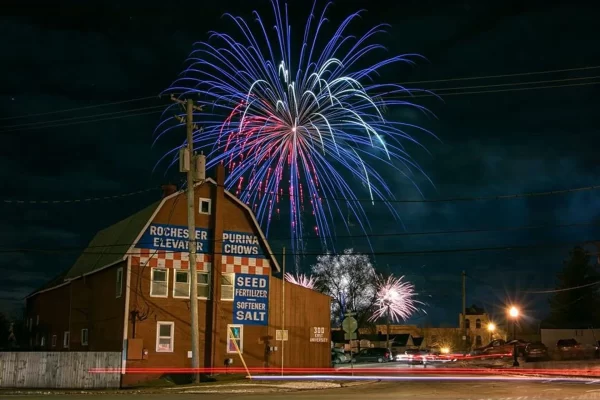 Lagniappe is a Creole word that represents "a little something extra," or a special gift. This word perfectly encapsulates the tradition, as the celebration does not stop at a light show. With Christmas carollers, an appearance from the jolly man in red, street vendors, and special holiday discounts, the business owners of downtown Rochester consistently live up to the name of Lagniappe. 
Other than the excitement of Lagniappe, events like Tree Festival, Kris Kringle Market, and Caroling in the city bring downtown Rochester to life with the Fire and Ice Festival as one of the most popular.
At Fire and Ice, one can enjoy peacefully meandering alongside storefronts to see ice sculptures created by local artisans or look to the sky and view the intense firework show from the comfort of a beer tent. Fire and Ice provides entertainment for children and adults with band performances, ice skating, tubing down 3rd Street, and a plethora of food trucks.
No matter how hectic the holiday season may be, taking a second to experience and support the local wonders of downtown Rochester can ease the tensions as well as deliver the magic of the holiday season.