Netflix Makes February Haters Rejoice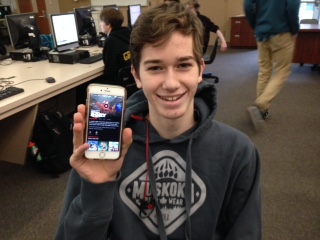 With Valentine's Day just around the corner, many are struggling to find love and joy in such a depressing month for those without significant others… the dreaded February. What people do not know, however, is the number of new and exciting films and shows being released on the prime streaming app, Netflix, for viewers to watch this February. Here are some the new and exciting productions set to air on Netflix this month.
February 1
For children of all ages and adults who are still a true kid at heart, Finding Dory is the perfect film for families and all. The production tells of a Blue Tang fish named Dory, and her journey to find her parents in the deep sea while battling with short-term memory loss. A spirited, humorous film, Finding Dory is sure to bring tears and laughter to all viewers throughout the production.
The Chronicles of Narnia: The Lion, The Witch, & The Wardrobe
February 1
A classic tale, The Chronicles of Narnia is set during World War II in Britain, through the eyes of four young children. The siblings are whisked away to a country-home in order to stay safe from the threats of the war. There, they discover a mysterious wardrobe that takes them to a different, mystical world, Narnia. The wonderful production enchants viewers with its unimaginable creativity and visual characteristics, including a number of beautiful creatures like the prominent majestic lion.
February 1
Another inspiring film, Gun Runners connects to those who have a passion to do something great in their life. This hit movie stars two agents (played by Julius Arile and Robert Matanda) from North Kenya who ditch their old lives in the violent trading business in order to achieve the Kenyan dream of marathon running. This high-paced film will capture the viewer's' interest and amazement throughout the motion picture.
February 1
A 2008 film which captured the hearts of millions, Netflix surprised many fans when they announced that Twilight would be returning this month. The fan-favorite film involves what seems like a normal relationship between two teen lovers, except with a twist: one of them is an immortal vampire. The fantasy world revolves around vampires and werewolves and reels in viewers with its imaginative and visually appealing characteristics. Each twist and turn brings suspense and drama, leaving viewers on edge throughout.
February 3
A new Netflix series, Santa Clarita Diet is for those who crave gory action and outright humorous thriller scenes. Santa Clarita Diet starts off with a bang, as real-estate agent Sheila (played by Drew Barrymore) dies from excessive vomiting while selling a house. What viewers quickly find out is that Sheila revitalizes and comes back to life as a zombie. The series switches between great amounts of humor, gore, and mystical elements that will surely keep readers on edge for the entire series.
Magicians: Life in the Impossible
February 13
For all of those who believe any dream is possible, Magicians: Life in the Impossible is the perfect movie to watch. The movie follows four highly-crafted magicians on their journey as talented magicians. The film illustrates each magician's motivation to achieve his or her dreams each day. A film for all ages, Magicians: Life in the Impossible will inspire anyone to pursue and reach their goals.
Girl Meets World: Season Three
February 19
The Disney Channel hit-series, Girl Meets World, and its announcement to come on Netflix, has excited many loyal viewers who have watched the series to its end. Girl Meets World tells the point of view of Riley, (played by Rowan Blanchard) navigating and finding the ups and downs of middle school with her best friend, Maya (played by Sabrina Carpenter). This inspiring series connects to students at school and the struggles that come with growing up in a big world.
February can be one of the most upsetting and outright boring months of the year. With the infamous Valentine's Day coming up, many become depressed as they struggle to find happiness without a significant other.  With these Netflix shows and films arising during the month, February may turn from unexciting to delighting.