Much Love for Love, Death & Robots
Giant gladiator reptiles, WWII Russians fighting demons, and robots vacationing in a post-apocalyptic city; all of these take place in Netflix's new show, Love, Death & Robots.
Following the release of Black Mirror, Netflix has come out with numerous shows comprised of short films, the latest one being Love, Death & Robots. Love, Death & Robots is an animated anthology of science fiction fantasy flicks, ranging from a utopia run by a sentient bowl of yogurt to archaeologists battling Dracula. Each episode consists of a short animated film roughly averaging ten minutes long that is filled to the brim with drama action, or comedy.
Originally, the series was intended to be a reboot of the 1981 film Heavy Metal, which was a similar concept. The 1981 original was also an anthology of fiction, science fiction, and horror films stemming from stories published in Heavy Metal Magazine. Even though Love, Death & Robots broke away from the original title, it still features the violence, graphic nature, and language previously associated with the magazine. This show is not for the faint of heart, but critics say this may give rise to a new NSFW phase of Netflix, as previously seen with Devilman Crybaby and Black Mirror.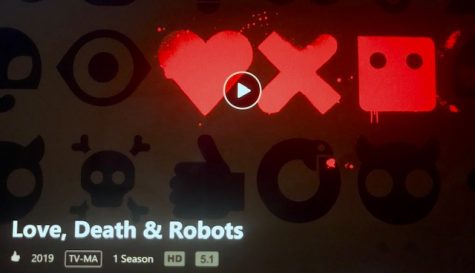 "The more naked and gleaming the streaming platform is willing to become, the more urgent its programming will be—and the better it will withstand the coming challenges brought by its competitors," said Peter Rubin from Wired.
Senior Ethan Sayre began watching the show and commented,
"The show is just as good as Black Mirror, or better, and is amazingly animated in many different styles," said Sayre.
Reviews on IMBD rated the film 9.1 out of 10, similarly, fan reviews from Google Play gave the film a 98 percent. The creator of the show Tim Miller called the show, "a love letter to nerds," which makes sense when watching the show. The series begins on a story called "Sonnies Edge,". The episode follows an underground cage fighter who battles using cybernetically controlled monsters. Following the Sci-Fi fantasy trend, the next episode is named "Three Robots," and takes place in a destroyed metropolis. The three robots in the film tour the city, and interact with everyday items as if they are seeing them for the first time.
The beauty of the show is the nihilistic-yet-limitless feeling it grants the audience. The plot of each episode is vastly different from the rest, and every one of them is animated in an entirely different way.  The show is a visual masterpiece an engaging experience. However, if one plans to watch it, they should be aware of the mature content and nature of the series.