Jana Kramer Returns to Rochester
The halls were buzzing with excitement and stardom as country music star Jana Kramer chatted and took "selfies" with students before her concert the Crofoot Ballroom on February 27. Since the recent accomplishments of her chart topping single "Why Ya Wanna," acting debut on One Tree Hill, and finally ACM Award for "Top New Female Artist," the country cutie visited Rochester to film a segment about her childhood and promote her fall 2014 album.
Q: What was it like returning to Adams?
A: It was really cool. I haven't been back, honestly, since I graduated, which is quite a while since I graduated in 2002. Nothing has really changed that much, and so it kind of felt like it was a time capsule and walking back brought up a lot of old memories, but good ones though. It was really fun to see my favorite teacher and walk down the halls and be like "oh my gosh, that's where my best friend and I did this!" It was just really cool.
Q: What were some of your best memories from Adams?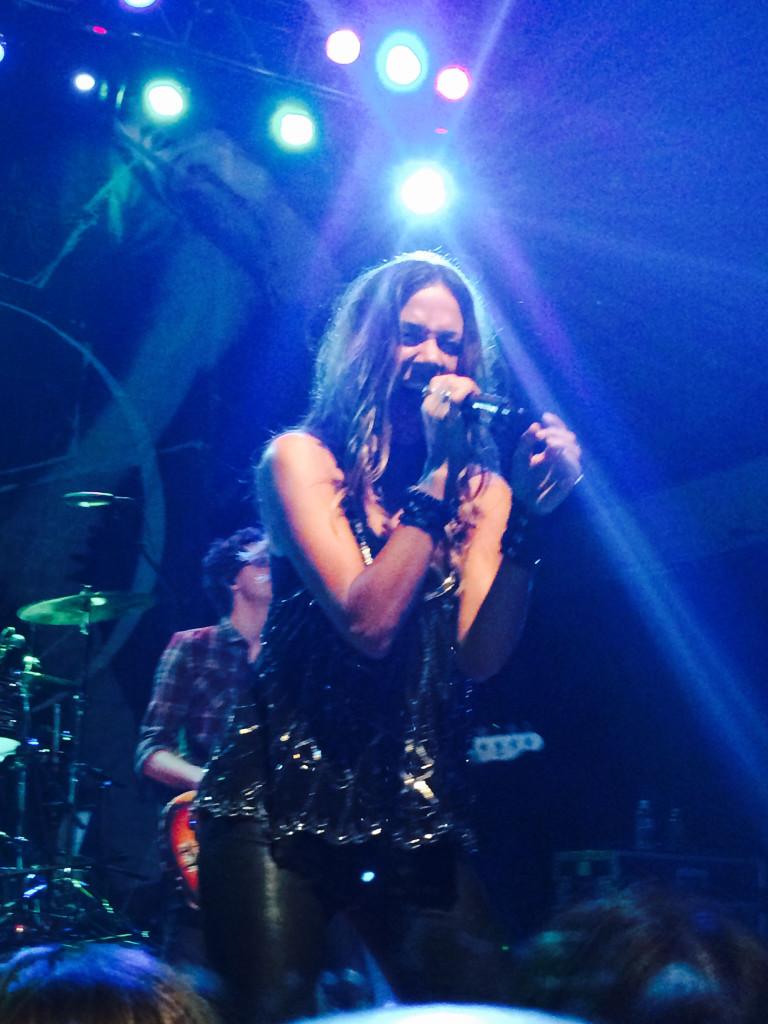 A: It was honestly just all the memories that happened with my best friends, like my best friend Lisa who I'm still really close with. Of course, I loved being in Frau Barner's class because she was my favorite teacher. When I got to go back, it was really cool to see her again and even getting to see where my old locker was from my senior year was pretty neat.
Q: As you've gotten older, how have you seen yourself change from high school?
A: So much has changed. I honestly wish that if I was back in high school, and I could tell myself now not to take everything so seriously and enjoy it. But I've definitely now changed because I'm not that freaked out about putting myself out there because everything's going to work out how it's supposed to.  Your high school sweet heart probably won't be the one you end up with!
Q: In high school, did you sing at any pep assemblies, or did high school help you musically at all?
A: No, I didn't! I didn't do any of that I think because at that age I had a really hard time believing in myself, so I didn't want to do any of that stuff.
Q: What inspired you to go into this career, starting off at One Tree Hill and going into music?
A: It's not one thing, but it probably started around the age of 14, which was where I didn't really believe in it yet.  Once I was on One Tree Hill, the creator was really into music but I was just writing some songs and I gave them to him and was like "Hey! I don't know if you'll like this or not, but let me know what you think since you're big on music stuff." He ended up turning my character into a singer and from there I ended up getting a record deal and just working really hard.  I ended up having a big song that broke a lot of records. I mean, it's awesome! It just shows that you have to believe in yourself and have a lot of determination.
Q: Was One Tree Hill was your big break?
A: I would think so. I would definitely say that.
Q: Before One Tree Hill, did you know that this is what you wanted to do?
A: Even before I booked One Tree Hill, I knew that once I started getting older I wanted to do music. I've grown up to know not to live with regrets, so that's when I just started to dapple in music a little bit more and fly to Nashville to meet some people. I could tell this was it. When I know that I want to do something, I make sure I do it.
Q: Are you still in contact with anyone from One Tree Hill?
A: I am. Sofia Vergara and I are still really close friends and we talk all the time.
Q: Are you still interested in acting?
A: Of course! I still enjoy going out for certain things, but right now my focus is just on the music. If I could make it work with both, that would be ideal.
Q: What attracted you to country music?
A: I grew up listening to country music. WYCD was the hometown station. Ever since I was a little girl, I was listening to country music in northern Michigan with my grandparents.  I feel like country music tells a story so I feel like that's the best one. I have a lot of stories to tell so country music is perfect!
Q: What can we expect from you in the future?
A: I have a new album coming out in late fall! My new single is coming out in April and it is called "Love." My single after that is called "I Got the Boy" and it's about high school sweet hearts and small towns. I'm so excited and this album is going to be one that I'm really proud of.
Q: Is "I Got the Boy" about someone from Adams?
A: It is! Mathew Plectivic was my high school sweetheart.
Q: What is your ultimate goal for yourself?
A: A Grammy or a world tour would be amazing, but in the end, I really just want a family. I want something to come home to that inspires me to get the Grammy and Oscar and all of those things. Those things are of course great goals, but once they're achieved, I want share my life with someone. When I won "Top New Female Artist" at the AMC Awards last year, it was awesome and it was cool, but the most satisfying thing would have been bringing it home to a family.
Leave a Comment