Freddie Mercury is Out of This World – "Bohemian Rhapsody Review"
On September 5, 1946, Freddie Mercury was born and the music world changed forever.
Mercury was one of the most influential artists throughout the 70s and 80s, and beyond. He inspired greats like David Bowie, Michael Jackson, and the Rolling Stones. The movie Bohemian Rhapsody beautifully tells the story of Mercury and the rest of the legendary band, Queen. Mercury had many ups and downs, and the movie tells the story in the best way possible. It takes place mostly in England, but they move all around the globe throughout the movie, so there is no specific setting of the film.
The film has a small and quick origin story of Mercury, and how he found the band. The movie is very stylistic because Mercury's wild taste in fashion and personality resonates in the film. The mood fluctuates throughout the story because of his emotional journey.
"As a huge Queen fan, the movie looks very fun to watch and to see the band's journey in the music industry," said junior Chaz Foor.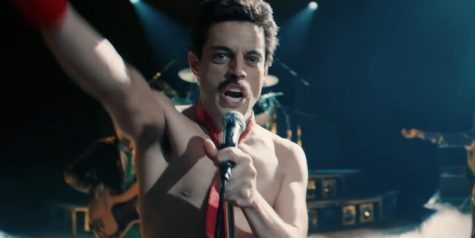 In the movie, fans of Queen get to see how certain ideas came up, how songs were created, and how the artists were inspired to make them. Although critics were a bit skeptical of the movie, the overall audience was very happy with the movie about the iconic band. According to Rotten Tomatoes, audience reviews were 93 percent, while critics gave the movie a 61 percent.
"Absolutely loved the movie! 10/10; recommend to all Queen fans and Freddie lovers out there," said junior Brian Zhang.
Bohemian Rhapsody is a classic song and an even better movie, with it's fun live performances, emotional story, and a great finale.