FABEV by Cordae – Album Review
Rating: 8/10
Artist: Cordae
Release Date: Jan 14, 2022
FABEV (From a Bird's Eye View) is Cordae's third album, following the success of his previous album Lost Boy. 
FABEV's production is outstanding throughout every track and features many producers such as King Culture, Nami, Boi-1da, Daoud, Hit-Boy, and many others. Cordae is credited as a producer in some of his tracks as well. 
The production is phenomenal, as every song has a unique sound and feels like a different story is being told in each. The tempo in tracks like "Momma's Hood", "Want From Me", and "Jean-Michel" are fairly slow, featuring hard hitting lyrics where Cordae speaks up about his personal struggles from his childhood to the present.
"Super" consists of more fast-paced beats. This is the standout track of the album, as everything about it is perfect. Cordae's impressive flows are intertwined with his sharp and quick delivery, making it an immediate head-bopper. "Sinister (feat. Lil Wayne)" is another solid track with a slightly slower tempo, and features an addicting guitar bass in the background. It doesn't fall too far behind "Super" and is the best feature track in the album.
Another enjoyable aspect of the album is how Cordae remembers those he has lost. Ranging from his grandmother who supported him in his career as a rapper, to a friend who he lost due to violence. Some tracks indirectly highlight pain, depression, anxiety, and how Cordae overcame those obstacles, which adds to the genuine aspect of his music.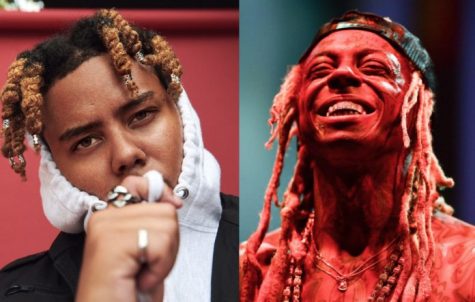 The one minor downside of FABEV are features, which is the main reason why the album the rating falls to an 8/10. In "Champagne Glasses", Freddie Gibbs and Stevie Wonder complement the song, however, the production, lyrics, and delivery were nothing to be amazed by. "Gifted (feat. Roddy Ricch and Ant Clmeons)" also had similar issues, and it's also quite a bit of a disappointing collaboration by Cordae and Ricch, especially considering some of the other great projects both artists have put out. 
The Parables (Remix) with Eminem is a song that grew on me over time, as it sounded decent on the first listen, but it took me a while to really like it. It's another Eminem song where Eminem's vocals are quite high-pitched, and it was relatively awkward to hear at first. 
Overall the album gets a solid 8/10 rating. It's a great album, with amazing production, background vocals, and meaningful lyrics. The only downside, although minor, are the features from "Champagne Glasses" and "Gifted" which were quite underwhelming. But nevertheless, this is still a solid album that further proves that Cordae is a young and promising artist in rap that should be mainstream and not overlooked as a young promising rapper.