Everything Everywhere All At Once Wins Seven Oscars at the 2023 Academy Awards
On March 12, 2023, the team of the 2022 film Everything Everywhere All At Once left the 95th Academy Awards with a total of seven Oscar awards, leaving viewers in awe. A win like this leads many to question how such a movie managed to accomplish so much.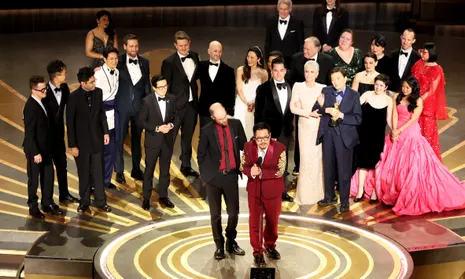 Everything Everywhere All At Once tells the story of Evelyn Quan Wang (Michelle Yeoh), a Chinese-American immigrant, pulled from her ordinary life of doing taxes and laundry, into multi-universal battle caused by an erratic "verse-jumper" who has created a black-hole, referred to as the "everything bagel," that threatens to destroy the entire multiverse. In the midst of chaotic interactions with thousands of versions of herself, Evelyn comes to several epiphanies about her relationships with her father, husband, daughter, and self.
The creation of this movie began with its writers and directors, Daniel Kwan and Daniel Scheinert (aka "the Daniels"), in 2010. They brought on a team of actors, including stars Michelle Yeoh, Stephenie Hsu, Ke Huy Quan, and Jamie Lee Curtis, and in 2018 finally announced its production to the media. This absurdist, science fiction, comedy-drama film grossed over $136 million worldwide, a stunning accomplishment for such a low-budget film.
The seven academy awards won by the film at this year's Oscars include: Best Picture, Best Director, Best Actress (Michelle Yeoh), Best Supporting Actor (Ke Huy Quan), Best Supporting Actress (Jamie Lee Curtis), Best Original Screenplay, and Best Film Editing. Aside from the Oscars, the film also won two Golden Globe awards, five Critics' Choice Awards, one BAFTA Award, four SAG Awards, seven Independent Spirit Awards, and four major guild awards (DGA, PGA, SAG, WGA). It made history at the Academy Awards on a number of levels; it starred the first Chinese-American woman to win Best Actress and became the first science-fiction film to win Best Picture and to win five of the top six Academy Awards. On top of that, the casting featured a winning trio of stars with unique comeback stories. 
So what was it about this movie that caused such a splash in the industry? The most obvious thing may be that it is a movie that makes one think. The writers used complex philosophical concepts such as existentialism, nihilism, and absurdism, creating a story that remains imprinted in the minds of viewers once the credits roll. By the time the movie ends, the lingering question of "what does it mean?" hangs in the air. 
"I loved the symbolism throughout the movie. It touched on philosophical questions such as the free will versus determinism debate by use of black and white circles," said senior Adams student Leila Eddy.  
The film gets into very mature themes such as neurodivergence, depression, generational trauma, LGBTQ identity, and Asian-American identity. Throughout the story, Joy/Jobu (Evelyn's daughter), the erratic "verse-jumper" later reveals how her motivations stem from her deep-rooted depression and struggle to find meaning in life. Jobu's story may be one of the most powerful and relatable in the story for young watchers, especially daughters, because of how most people at this age can share in her viewpoints and struggles, as adolescence is typically when we experience these existential crises. She also, like many adolescents, struggles to live up to her mother's expectations, especially being gay, getting into the very difficult discussion of how parent-relationships can have such an influence on childrens' mental health.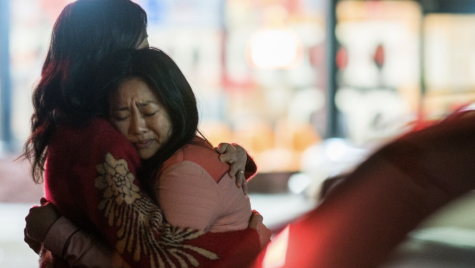 "I loved EEAAO. I think it addressed some very relevant issues facing many families everywhere. This made it incredibly relatable and important in a way. I loved how it touched such important issues such as immigration, parental relationships, family dynamics, and homophobia in America," said Eddy. 
Evelyn also represents many of these themes as well, as her motivations are also influenced by her Asian-American identity and the trauma from her parents. She was limited by these things in her life, prompting the wonders about how life might've been different if she had gone about things a different way; whether or not she could find purpose in her life if she had changed her decisions in the past. It is this wondering, however, that leads her right back to her own ordinary life as she realizes that purpose does not come from doing big, spot-lighted things with your life, but from the little moments like doing laundry and taxes with your husband.
Jobu's struggles and Evelyn's realizations are the gateway epiphanies into the story's overarching idea about meaning; nothing matters, so everything matters. It is an idea that is shown through so many aspects in the film. It is already seen in the characters' narratives, in which each one struggles to make the things in their life matter. It is seen in the cinematography of the movie as well, specifically the absurdist techniques. Viewers watch as characters walk around with hot-dog fingers, cook food with talking raccoons, and even turn into rocks with googly eyes and subtitles. It adds an overwhelming layer of silliness to such a thoughtful movie, one that some members of the audience may not understand or appreciate. However, the reasoning behind it provides further insight into the Daniels' main message. Nothing matters, so why not create a movie with a series of alternative universes based around an everything bagel. Why not make the audience laugh while making them ponder the meaning of life?
For those looking for a movie to watch this upcoming weekend, check out Everything Everywhere All At Once. While it is not a movie for the light-hearted, it is truly one that viewers will appreciate. Everything from the story-telling to the acting to the editing is meant to touch mind and heart, and leave people with a new lingering sense of appreciation for life.