Euphoric Cinematography
Brief trigger warning: The point of this article is NOT to promote drug abuse, SA abuse, or anything intended to make anyone uncomfortable. Euphoria is intended for mature audiences and depicts struggles with addiction, anxiety, depression, and SA. 
What makes Euphoria so interesting? Although the HBO series Euphoria Season 2 highlights the struggles of teens, what's most fascinating about this series is its use of cinematography, fashion, and makeup. 
Director Sam Levinson depicts his creativity throughout Season 2 with the use of phenomenal cinematography by Marcell Rev, makeup, fashion, and music. The entire season was shot on the Kodak Ektachrome motion picture film camera to capture amazing shots of important moments, which is the key element that makes Euphoria so intriguing. Musician Labrinth is the composer of all the music in Euphoria, making soundtracks that inspire creativity and assure that all the scenes allude to what's happening in the plot. 
Some of the most iconic looks of Season 2 were Maddy's dress from the New Year's Eve party scene, and Rue with her everyday look being a maroon zip-up hoodie. The majority of the fashion statements have to do with the character and how their personalities are acquired. Maddy, being the "mean girl" of the show, shows her fashion through being mostly a materialistic girl. She's very invested in things that are expensive and flashy, reflecting her eccentric personality and outgoing nature. Rue, on the other hand, prefers a more tomboy look with printed tops, jeans, and converse.
"I think Maddie's style is bolder and defined which goes with her personality and centered on her attitude. Cassie is quite a fake friend, and it shows through her style," said senior Sarah Daniels.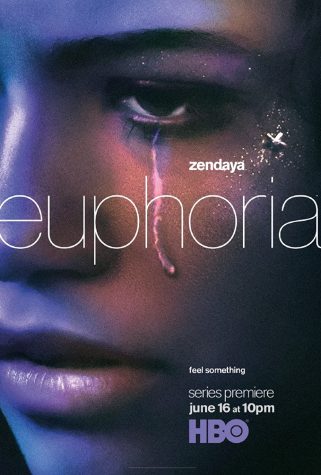 This look shows how she is always her authentic self as she prefers a more comfortable look. After a shift in episode 3, Cassie becomes madly in love with Nate Jacob, Maddy's ex-boyfriend. Cassie changes her style to mimic Maddy in hopes of finally getting a mere glimpse from Nate. She caters to whatever he likes and tries so hard to get Nate's attention, that she would get up at 4 AM and spend three hours to get ready just to be noticed. Through the use of iconic fashion, these plotlines are enhanced and made easier to follow. 
The music in Euphoria symbolizes each scene and replays certain music to foreshadow events. For instance, in Season 1, the song "Mount Everest", by Labrinth played during the episode that developed Nate's character. They continue to use this song throughout the entirety of the show. The music connects to each moment a character experiences. The directors do a great job of incorporating all types of music that go with what each character is facing, from Carl's backstory to Rue and Fez's crazy interactions with others. Euphoria also jumps back to the '60s by utilizing not only fashion but music as well. 
"The music changed my opinion on how I thought about Euphoria. Based on what's going on, it can really enhance the drama of a scene or can shift into the calmness of it," said Adams senior Melissa Modrycki.
The Fashion and makeup displayed on Euphoria are so trendy that influencers are re-creating the looks they've seen on Euphoria in real life. 
Euphoria Season 2 met all expectations regarding fashion, music, and cinematography. Here's hoping that Season 3 comes with the same dynamic plotline and includes everything that makes it work in minds of its viewers; trendsetting fashion, recognizable music, and intriguing cinematography.