Controversy and Success at the 2018 Grammy Awards
Lights, Camera, Grammy's! Each year, the most popular artists gather and celebrate their achievements all in one dazzling night at the 2018 Grammy Awards. While this year was filled with plenty of records, both good and bad, this night was one record-setter everyone will remember.
Last Sunday, January 28th, music's biggest night gathered 19.8 million viewers. The last time the Grammys brought in less than twenty million was in 2009. That is down around 24% less from last year's show which brought in a massive audience of 26.1 million people. The increased amount of viewers and ratings could be a result of multiple factors. One reason could be politics being inserted where they arguably should not have been. Former Presidential candidate Hillary Clinton appeared unexpectedly in a pre-filmed video. Clinton read excerpts from the controversial anti-Trump book Fire and Fury. Other celebrities contributing to this skit were Cardi B, DJ Khaled, Snoop Dogg, Cher and John Legend. The satire's premise started with James Corden having the stars audition for a role reading the book in order to win next year's award for best spoken album. Another factor that could have contributed to low ratings other than politics might have been artists receiving certain, arguably undeserved, awards.
Several artists had a successful night full of multiple wins, like Bruno Mars. He won artist of the year, along with best R&B performance, record of the year, best R&B song, song of the year, and best R&B album. To some viewers' shock, Alessia Cara took home the best new artist of the year award, while others disputed that Khalid should have won. Kendrick Lamar took home the Grammy for the best rap album, "DAMN."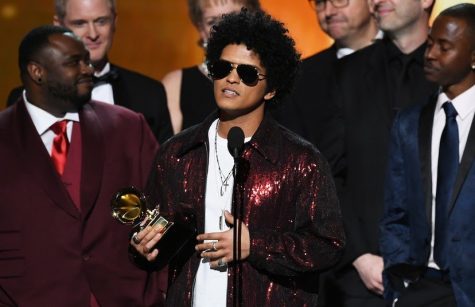 "The Grammy's were good this year. Khalid should have won best new artist though, not Alessia Cara," said junior Kyle Bush.
Alessia Cara received hate for winning because she was not necessarily a brand new artist, and critics were quick to say she did not deserve it over her fellow competitors. Nominees included Sza, Lil Uzi Vert, Khalid and Julia Michaels. Alessia Cara responded with a lengthy Instagram post.
"…I'm aware that my music wasn't released yesterday, I'm aware that, yes, my music has become fairly popular in the last year. But I'm trying very hard to use the platform I've been given to talk about these things and bring light to issues that aren't fair, all while trying to make the most of the weird, amazing success I've been lucky enough to have…," said Alessia Cara.
This award comes with great honor and pride, but in some cases there will be a negative response, much like the one Cara is facing.
Not only was there shocking wins, but one performance in particular stood out. Kesha's emotional delivery of her hit song "Praying" tugged on many heartstrings. A star- studded performance filled with singers like Cyndi Lauper, Julia Michaels, Camila Cabello, Rita Ora, and more stood together and vocalized words that several abuse survivors could relate to. With the "Me Too" movement becoming more well known, Kesha's song about her own experience with sexual abuse is greatly helping the movement. Performances like these demonstrate how influential and impactful music can be.
"I think Kesha is a very strong person, and she has finally stood up for herself by writing and singing her song," said junior Shanya Flye.
Although the 2018 Grammy's was filled with low ratings, disputable award-winners, and powerful performances, there is always next year. The question echoing now is "can the Grammy Awards be saved?" With more agreeable winners and poignant performances, there is always a chance for betterment.