Cold War Kids Head "Home"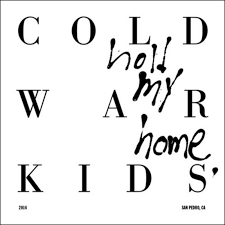 California based indie band, Cold War Kids, released their much-anticipated new album, Hold My Home. This is the band's first album since their 2011 release of Mine Is Yours and has been received with mixed feelings. Since their first studio album, Robbers & Cowards, which was released in 2006, the band has tried to switch up their indie rock musical style to a more blues rock style.
This 11 song album has something for everyone, with songs ranging from slow ballads to upbeat dance tunes. The new album also credits touring members Joe Plummer and Matthew Schwartz as permanent members of the band.
While the album is currently number eight on the US Alternative Chart, not all of Hold My Home is up to par with what we are used to expecting, such as "All This Could Be Yours" and "Go Quietly" that sound similar to their usual style. Critics are skeptic of whether or not the Cold War Kids are going in the right direction with their new sound.
Their single, "Flower Drum Song," seems more like a song for a "wanna be hipster" rather than a respectable indie song. Some of the song's lyrics are quite cynical, such as, "And no apologies and you go blind. Before you ever let, let them see you cry," which contradict the song's upbeat title. Overall, the song has a completely different feel and is easily the weakest song in their struggling album.
The lead single, "All This Could Be Yours," is their biggest hit since "Hang Me Up To Dry" in 2007. With a catchy chorus and entrancing beat, "All This Could Be Yours" is a perfect song to jam to. Although the lyrics about death can also be seen as cynical, the rhythm is too infectious to deny.
The song, "Go Quietly," takes listeners back to the same Cold War Kids they fell in love with in 2006. Lead singer, Nathan Willett, showcases his vocal range in the chorus of this song. Willett hits notes most men should not be able to, and he does it with ease. Willett's falsetto is an amazing example of how versatile the band is.
With a 2.5/5 rating, the album as a whole is not a must-listen, but the songs "All This Could Be Yours" and "Go Quietly" are definitely songs to remember. While the band prepares to head on tour, their new album can be bought on ITunes for $9.99. The Cold War Kids still remain an iconic band for hipsters everywhere.
Leave a Comment