Battling Business: DECA States Recap
The state's best competitors battled it out in Detroit at the beginning of March.
This year's state competition for DECA, Distributive Education Clubs of America, was held at the TCF center (formerly known as the Cobo center). DECA is a business organization where students either prepare business plans and present them or respond to business scenarios in front of a judge. After months of preparations Adams DECA students stayed in the Westin Book Cadillac hotel for a luxury experience. The hotel features a pool and gym, so guests could unwind between sessions. Students left immediately after school Wednesday March 4 and returned Saturday March 6. Previously the conference was held over the weekend, but the board decided to mix it up this year with an earlier start to the event.
When students were not competing, they were able to stop at a variety of local businesses Detroit offers like Shake Shack, Townhouse, and Hudson Cafe. There are also some other festivities like visiting the Spirit Statue, riding around on Bird scooters, or skating at Campus Martius.
Senior, Sarrah Ahmed attended states this year with some of her close friends after working on a prepared event. She is a dedicated Adams DECA member and has been to states numerous time, but she happily shares a bit about her experience this year,
"I've been doing DECA for three years. I started out my first year in a Team Decision Making event, but more recently I've competed in the business merchandising operations research category. This year qualifying for ICDC, the International Competition, for a second time was definitely a thrill. I'm glad I got to do what I love with my best friends and get rewarded for it. It is truly a gratifying experience. Since september my group and I had been writing a 20 page proposal about a business' social media strategy. The paper required us to research the business of our choosing and conduct surveys and interviews. We then constructed a presentation and were fortunate enough to present it to a judge at the state career development conference," said Ahmed.
She and her team reached great success by becoming State champions. Another club member Andrew Jankowski, like Ahmed, participated again at the state level. Jankowski competed in an event that allowed his team to immediately compete in the international competition.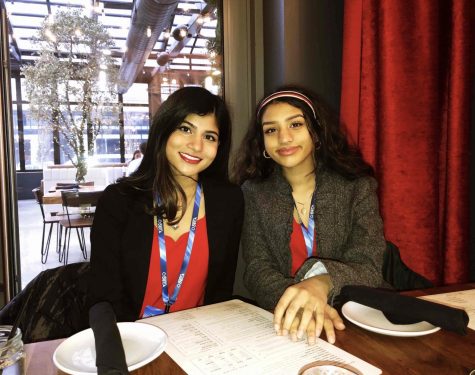 "DECA states this year was a lot of fun! I had a great time competing and performed very well! In addition to the DECA competition, my roommates and I also rode the Bird scooters around the city," said Jankowski.
Jankowski, like a majority of Adams students, was able to take advantage of some of the fun Detroit has to offer outside of the TCF Center, and both Ahmed and Jankowski placed well in competition. DECA states 2020 was an awesome experience and was definitely a success.