Adams Theatre Moves Forward with Fall Play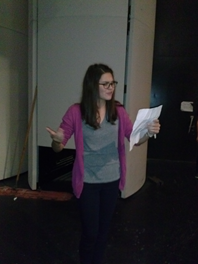 With auditions all wrapped up, the Adams International Thespian Society (ITS) is moving forward with its production of The Government Inspector.
"I'm feeling pretty good about the incoming cast and crew. Although a lot of our talent left, I feel confident that we have the talent needed to put on a good show," said sophomore Adam Garfinkle.
The Government Inspector is a witty and smart adaptation of Nikolai Gogols' comical original. The hilarious satire follows a case of mistaken identity that sends an entire Russian village into a frenzy of panic and greed when they discover an undercover government inspector is coming to town.
"It's a good show for the cast of kids we have. It's really funny, it's quick-paced, a lot of good timing, a lot of entrances and exits. I've hired an assistant director who is also a choreographer, so it's getting the movement down for the show, so that's a another component in place…. Our costume designer is fantastic and fabulous, and she will be around for most of the production," said director JoAnna Pillsbury.
For updates or information on how to get involved in the production, visit the Adams theatre website.
Leave a Comment